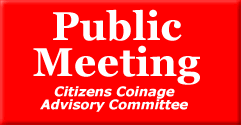 The Citizens Coinage Advisory Committee (CCAC) will meet Thursday, Sept. 27, to review and discuss candidate designs for 2018 to 2020-dated coins struck in clad, silver and high relief gold.
The CCAC is tasked with advising the Secretary of the Treasury on themes and designs pertaining to all United States coins and medals.
Key agenda topics during the meeting include reviewing U.S. Mint designs for:
the 2018 American Innovation $1 Coin;
the 2019 American Liberty High Relief 24k Gold Coin and Silver Medal; and
the 2020 America the Beautiful quarter dollar honoring Weir Farm National Historic Site.
Candidate designs for two of the coins had already been looked over — those for the 2020 Weir Farm quarter in June and those for the 2018 American Innovation $1 Coin in July. In the upcoming meeting, CCAC members will review revised designs for the pair of coins.
Meeting Time, Location and Dial-In Options
The meeting begins at 10:00 a.m. and is scheduled to last until 3:30 p.m. (ET). It is opened to interested members of the public, and will be held at:
United States Mint Headquarters
801 9th St. NW
Second Floor Conference Room
Washington, D.C. 20220
The meeting area can accommodate up to 50 members of the public with admittance on a first-come, first-serve basis. All persons entering the U.S. Mint's headquarters must adhere to building security protocol, which includes consenting to the search of their persons and objects when they enter and leave.
Those who cannot attend may also dial in to listen by calling (866) 564-9287 and using Access Code: 62956028. No comments or questions will be taken during the meeting. Dial-in access is "listen only," and phones must be kept on mute to not disturb the discussion.
In addition, anyone interested in submitting ideas for the CCAC's consideration may email them to info@ccac.gov.