The U.S. Mint's 2017 Limited Edition Silver Proof Set is no longer available. Limited to 50,000 and priced at $139.95, the set of eight silver coins went on sale Thursday at noon and by Friday evening — roughly 32 hours later — it was unavailable.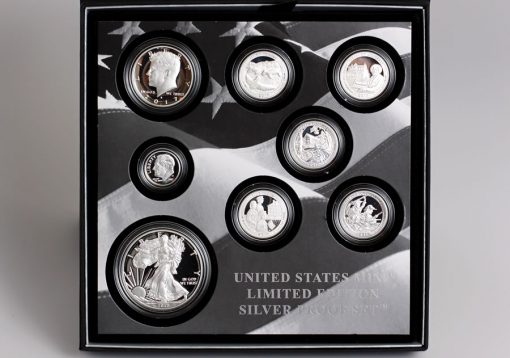 They have not officially sold out. The set's product page has a "Remind Me" option to sign up for an email should more become available. And in fact, there were at least two instances early Saturday when their sales briefly resumed.
Many believed the set would sell out quickly because it offered a last chance to get a low-mintage 2017-S Proof American Silver Eagle. It was frankly a surprise to see them available past the first day.
Their sales were boosted Friday at noon when the U.S. Mint lifted its limit of two sets per household.
Other coins of the set include 90% silver versions of the half-dollar, five quarters, and dime.