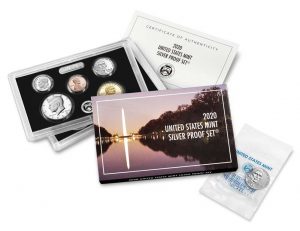 The United States Mint's best weekly seller was its most recently released product, the 2020 Silver Proof Set which includes 10 proof coins from the San Francisco Mint and comes with a bonus reverse proof nickel from the West Point Mint.
The set's position as the U.S. Mint's strongest seller will end, at least for a time, as its ordering status is now "currently unavailable." Fewer were on hand compared to past years. Some of the Mint's product inventories, like those for the set, have been limited because of temporary plant suspensions due to the COVID-19 pandemic.
The 2020 Silver Proof Set debuted a week ago Friday, April 17, and registered three-day starting sales of 183,456 for 96.1% of the available inventory of 190,960. From there, its sales quickly climbed by several thousand more and, as such, its inventory ran dry.
The set should find more traction down the road with the San Francisco Mint resuming operations May 4.
Weekly U.S. Mint Top Sellers
Here's a listing of the Mint's most popular products for the week ended April 26:
2020 Silver Proof Set (+7,486 to 190,942)
2020 Proof Set (+5,837 to 242,188)
2020-W Proof Silver Eagle (+2,776 to 272,873)
2019-S Proof Silver Eagle (+796 to 146,330)
2019 Proof Set (+767 to 574,582)
2019 Silver Proof Set (+757 to 395,683)
2020 America the Beautiful Quarters Silver Proof Set (+695 to 49,496)
2019-W Uncirculated Silver Eagle (+570 to 132,922)
2020-S National Park of American Samoa 100-Coin Bag (+497 to 4,198)
2020-W $50 American Gold Buffalo Proof Coin (+485 to 6,517)
In its latest report, the U.S. Mint published sales data for 131 numismatic products. Three products saw their sales reduced compared to none in the previous report. Two of the reductions were modest. The outlier was the 2020 Quarters Uncirculated Set, dropping 1,025 to 19,963.
US Mint Sales: Numismatic Products
Below are tables showing the latest available sales for U.S. Mint numismatic products. The sales period covers from April 19 to 26. Products with an asterisk (*) are no longer available or had no reported sales.
American Liberty Products

Old
Sales
Latest
Sales
Gain/
Loss
%
Increase
2019-W $100 American Liberty Gold Coin
9,174
9,222
48
0.52%
2019-P American Liberty Silver Medal
33,765
34,095
330
0.98%
2018-W $10 American Liberty Gold Coin
32,438
32,590
152
0.47%
2017 American Liberty Silver Four-Medal Set*
32,647
32,647
–
–
2017-S Enhanced Uncirculated Coin Set*
210,419
210,419
–
–
2017-W $100 American Liberty Gold Coin
31,722
31,736
14
0.04%
2017-P Proof American Liberty Silver Medal*
55,187
55,187
–
–

2019 American Legion Commemorative Coins

Old
Sales
Latest
Sales
Gain/
Loss
%
Increase
2019 American Legion Gold Coin and Emblem Print*
277
277
–
–
2019 American Legion Silver Dollar and Emblem Print*
1,788
1,788
–
–
2019 American Legion 50c and Emblem Print*
1,026
1,026
–
–
2019 American Legion Silver Dollar and Medal Set*
9,888
9,888
–
–
2019-W Proof $5 American Legion Gold Coin*
3,190
3,190
–
–
2019-W Uncirculated $5 American Legion Gold Coin*
2,927
2,927
–
–
2019-P Proof American Legion Silver Dollar*
44,018
44,018
–
–
2019-P Uncirculated American Legion Silver Dollar*
13,789
13,789
–
–
2019-S Proof American Legion Half Dollar*
18,811
18,811
–
–
2019-D Uncirculated American Legion Half Dollar*
11,430
11,430
–
–
2019 American Legion Three-Coin Proof Set*
7,451
7,451
–
–

2019 Apollo 11 Commemorative Coins

Old
Sales
Latest
Sales
Gain/
Loss
%
Increase
2019-W Proof $5 Gold Coin & Intaglio Print*
1,162
1,162
–
–
2019-P Proof Apollo 11 Silver Dollar & Intaglio Print*
4,980
4,980
–
–
2019-W Proof $5 Apollo 11 Gold Coin*
32,862
32,862
–
–
2019-W Uncirculated $5 Apollo 11 Gold Coin*
12,035
12,035
–
–
2019-P Proof Apollo 11 Silver Dollar*
218,995
218,995
–
–
2019-P Uncirculated Apollo 11 Silver Dollar*
59,700
59,700
–
–
2019-S Proof Apollo 11 Half Dollar*
66,822
66,822
–
–
2019-D Uncirculated Apollo 11 Half Dollar*
41,742
41,742
–
–
2019-S Proof Apollo 11 Half Dollar Set*
99,998
99,998
–
–
2019-P Proof Apollo 11 Five Ounce Silver Coin*
68,301
68,301
–
–

2018 Breast Cancer Awareness Commemorative Coins

Old
Sales
Latest
Sales
Gain/
Loss
%
Increase
2018 Breast Cancer Awareness Coin and Stamp Set*
4,455
4,455
–
–
2018-W Proof $5 Breast Cancer Awareness Gold Coin*
10,386
10,386
–
–
2018-W Uncirculated $5 Breast Cancer Awareness Gold Coin*
4,477
4,477
–
–
2018-P Proof Breast Cancer Awareness Silver Dollar*
34,542
34,542
–
–
2018-P Uncirculated Breast Cancer Awareness Silver Dollar*
12,526
12,526
–
–
2018-S Proof Breast Cancer Awareness Clad Half Dollar*
17,937
17,937
–
–
2018-D Uncirculated Breast Cancer Awareness Clad Half Dollar*
11,301
11,301
–
–

2018 WWI Centennial Silver Dollar and Medal Commemoratives

Old
Sales
Latest
Sales
Gain/
Loss
%
Increase
2018 Proof WWI Silver Dollar*
64,982
64,982
–
–
2018 Uncirculated WWI Silver Dollar*
22,336
22,336
–
–
2018 WWI Silver Dollar and Army Silver Medal Set*
15,621
15,621
–
–
2018 WWI Silver Dollar and Navy Silver Medal Set*
12,253
12,253
–
–
2018 WWI Silver Dollar and Marines Silver Medal Set*
12,648
12,648
–
–
2018 WWI Silver Dollar Coast Guard Silver Medal Set*
9,813
9,813
–
–
2018 WWI Silver Dollar Air Service Silver Medal Set*
12,520
12,520
–
–

Clad Proof Set

Old
Sales
Latest
Sales
Gain/
Loss
%
Increase
2020 Proof Set
236,351
242,188
5,837
2.47%
2019 Proof Set
573,815
574,582
767
0.13%
2018 Proof Set*
517,081
517,081
–
–
2017 Proof Set*
568,678
568,678
–
–
2019 American Innovation Dollars Proof Set
94,783
95,109
326
0.34%

2020 America the Beautiful Quarters Proof Set

47,148
47,618
470
1.00%
2019 America the Beautiful Quarters Proof Set
72,178
72,223
45
0.06%
2018 America the Beautiful Quarters Proof Set*
86,697
86,697
–
–
2020 Happy Birthday Gift Set
9,629
9,928
299
3.11%
2019 Happy Birthday Gift Set
18,054
18,066
12
0.07%
2018 Happy Birthday Gift Set*
17,719
17,719
–
–
2020 Birth Gift Set
9,512
9,867
355
3.73%
2019 Birth Gift Set
28,400
28,456
56
0.20%
2018 Birth Gift Set
32,216
32,232
16
0.05%

Silver Proof Set

Old
Sales
Latest
Sales
Gain/
Loss
%
Increase
2020 Silver Proof Set
183,456
190,942
7,486
4.08%
2019 Silver Proof Set
394,926
395,683
757
0.19%
2018 Silver Proof Set*
332,274
332,274
–
–
2018 Silver Reverse Proof Set*
199,116
199,116
–
–
2020 America the Beautiful Quarters Silver Proof Set
48,801
49,496
695
1.42%
2019 America the Beautiful Quarters Silver Proof Set
72,881
72,983
102
0.14%
2018 America the Beautiful Quarters Silver Proof Set*
79,301
79,301
–
–
2020 Congratulations Gift Set
24,382
24,383
1
0.00%
2019 Congratulations Gift Set
27,384
27,413
29
0.11%
2019 Limited Edition Silver Proof Set*
47,404
47,404
–
–
2018 Limited Edition Silver Proof Set*
49,479
49,479
–
–

US Mint Uncirculated Sets

Old
Sales
Latest
Sales
Gain/
Loss
%
Increase
2019 Native American $1 Coin and Currency Set
45,543
45,675
132
0.29%
2019 Uncirculated Mint Set
325,962
326,370
408
0.13%
2018 Uncirculated Mint Set*
257,536
257,536
–
–
2017 Uncirculated Mint Set*
286,813
286,813
–
–

Kids Coin Sets

Old
Sales
Latest
Sales
Gain/
Loss
%
Increase
2019 Youth Coin and Currency Set
9,033
9,082
49
0.54%
2019 Explore and Discover Coin Set
33,020
33,067
47
0.14%
2019 Rocketship*
49,921
49,921
–
–
2014 Coin Discovery Set*
13,151
13,151
–
–

Ornaments

Old
Sales
Latest
Sales
Gain/
Loss
%
Increase
2019 Mighty Minters Ornament
4,358
4,361
3
0.07%
2019 U.S. Mint Ornament
7,672
7,675
3
0.04%

Proof Silver Eagles

Old
Sales
Latest
Sales
Gain/
Loss
%
Increase
2020-W Proof Silver Eagle
270,097
272,873
2,776
1.03%
2020-W Proof Silver Eagle (Bulk – 40 Coins)
594
594
–
–
2019-S Enhanced Reverse Proof Proof Silver Eagle*
29,707
29,707
–
–
2019-S Proof Silver Eagle
145,534
146,330
796
0.55%
2019-S Proof Silver Eagle (Bulk – 40 Coins)*
137
137
–
–
2019 Pride of Nations Two-Coin Set
99,675
99,675
–
–
2019-W Proof Silver Eagle*
345,380
345,380
–
–
2019-W Proof Silver Eagle (Bulk – 40 Coins)*
745
745
–
–
2018-S Proof Silver Eagle*
158,785
158,785
–
–
2018-W Proof Silver Eagle*
354,025
354,025
–
–
2018-W Proof Silver Eagle (Bulk Pack – 210 Coins)*
182
182
–
–

Uncirculated Silver Eagles

Old
Sales
Latest
Sales
Gain/
Loss
%
Increase
2019
132,352
132,922
570
0.43%
2019 Bulk 40*
66
66
–
–
2018*
138,947
138,947
–
–
2017*
176,739
176,739
–
–

2020 Proof American Eagle Gold Coins

Old
Sales
Latest
Sales
Gain/
Loss
%
Increase
1 oz
2,367
2,479
112
4.73%
1/2 oz
888
928
40
4.50%
1/4 oz
1,304
1,403
99
7.59%
1/10 oz
4,312
4,762
450
10.44%
4-Coin Set
4,487
4,524
37
0.82%

2019 Proof American Eagle Gold Coins

Old
Sales
Latest
Sales
Gain/
Loss
%
Increase
1 oz
5,598
5,611
13
0.23%
1/2 oz*
1,876
1,876
–
–
1/4 oz*
3,035
3,035
–
–
1/10 oz*
10,231
10,231
–
–
4-Coin Set
7,464
7,469
5
0.07%

Uncirculated American Eagle Gold Coins

Old
Sales
Latest
Sales
Gain/
Loss
%
Increase
2019*
5,851
5,851
–
–
2018*
8,518
8,518
–
–
2017*
5,800
5,800
–
–

Proof American Buffalo Gold Coins

Old
Sales
Latest
Sales
Gain/
Loss
%
Increase
2020 Proof Gold Buffalo
6,032
6,517
485
8.04%
2019 Proof Gold Buffalo
14,836
14,834
-2
-0.01%
2018 Proof Gold Buffalo*
15,756
15,756
–
–
2017 Proof Gold Buffalo*
15,810
15,810
–
–

Proof American Platinum Eagle

Old
Sales
Latest
Sales
Gain/
Loss
%
Increase
2020
6,207
6,284
77
1.24%
2019
10,267
10,282
15
0.15%
2018
14,015
14,028
13
0.09%
2017*
8,890
8,890
–
–

American Palladium Eagle

Old
Sales
Latest
Sales
Gain/
Loss
%
Increase
2019-W Reverse Proof
17,241
17,281
40
0.23%
2018-W Proof*
14,986
14,986
–
–

America the Beautiful 5 Oz Silver Coins

Old
Sales
Latest
Sales
Gain/
Loss
%
Increase

2020-P National Park of American Samoa Silver Uncirculated Coin

14,003
14,162
159
1.14%
2019-P River of No Return Silver Uncirculated Coin
13,499
13,525
26
0.19%
2019-P San Antonio Missions Silver Uncirculated Coin
14,640
14,664
24
0.16%
2019-P War In The Pacific Silver Uncirculated Coin
15,402
15,438
36
0.23%
2019-P American Memorial Park Silver Uncirculated Coin
14,395
14,413
18
0.13%
2019-P Lowell Five Ounce Silver Uncirculated Coin
15,147
15,162
15
0.10%
2018-P Block Island Silver Coins*
15,913
15,913
–
–
2018-P Cumberland Island Silver Coins*
16,377
16,377
–
–
2018-P Voyageurs Silver Coins*
16,839
16,839
–
–
2018-P Apostle Islands Silver Coins*
16,802
16,802
–
–
2018-P Pictured Rocks Silver Coins*
17,773
17,773
–
–
2017-P George Rogers Clark Silver Coins*
14,731
14,731
–
–
2017-P Ellis Island Silver Coins*
17,670
17,670
–
–
2017-P Ozark Riverways Silver Coins
17,694
17,694
–
–
2017-P Frederick Douglass Silver Coins*
17,678
17,678
–
–
2017-P Effigy Mounds Silver Coins*
17,251
17,251
–
–

Presidential Silver Medals

Old
Sales
Latest
Sales
Gain/
Loss
%
Increase
2020 Andrew Jackson Presidential Silver Medal
10,026
10,122
96
0.96%
2019 John Quincy Adams Presidential Silver Medal
10,713
10,782
69
0.64%
2019 James Monroe Presidential Silver Medal
11,209
11,346
137
1.22%
2019 James Madison Presidential Silver Medal
12,055
12,180
125
1.04%
2019 Thomas Jefferson Presidential Silver Medal
15,899
16,019
120
0.75%
2018 George Washington Presidential Silver Medal
24,018
24,189
171
0.71%
2018 John Adams Presidential Silver Medal
18,499
18,639
140
0.76%

2019 American Innovation Dollars – Georgia

Old
Sales
Latest
Sales
Gain/
Loss
%
Increase
Reverse Proof (S)
29,730
30,070
340
1.14%
25-coin roll set (P)
5,390
5,412
22
0.41%
25-coin roll set (D)
5,185
5,200
15
0.29%
100-coin bag (P)
1,983
1,990
7
0.35%
100-coin bag (D)
1,876
1,882
6
0.32%

2019 American Innovation Dollars – New Jersey

Old
Sales
Latest
Sales
Gain/
Loss
%
Increase
Reverse Proof (S)
34,070
34,364
294
0.86%
25-coin roll set (P)
5,869
5,887
18
0.31%
25-coin roll set (D)
5,536
5,550
14
0.25%
100-coin bag (P)
2,262
2,271
9
0.40%
100-coin bag (D)
2,080
2,088
8
0.38%

2019 American Innovation Dollars – Pennsylvania

Old
Sales
Latest
Sales
Gain/
Loss
%
Increase
Reverse Proof (S)
40,164
40,428
264
0.66%
25-coin roll set (P)
6,436
6,467
31
0.48%
25-coin roll set (D)
5,844
5,864
20
0.34%
100-coin bag (P)
1,912
1,924
12
0.63%
100-coin bag (D)
1,920
1,927
7
0.36%

2019 American Innovation Dollars – Delaware

Old
Sales
Latest
Sales
Gain/
Loss
%
Increase
Reverse Proof (S)
56,889
57,010
121
0.21%
25-coin roll set (P)
6,523
6,541
18
0.28%
25-coin roll set (D)
6,194
6,206
12
0.19%
100-coin bag (P)
2,068
2,074
6
0.29%
100-coin bag (D)
2,261
2,267
6
0.27%

2018 American Innovation Dollars

Old
Sales
Latest
Sales
Gain/
Loss
%
Increase
Reverse Proof (S)*
74,720
74,720
–
–
Proof Coin (S)
210,628
210,851
223
0.11%
25-coin roll set (P)
16,961
17,009
48
0.28%
25-coin roll set (D)
15,972
16,020
48
0.30%
100-coin bag (P)*
2,935
2,935
–
–
100-coin bag (D)*
2,954
2,954
–
–

Native American Dollar Rolls

Old
Sales
Latest
Sales
Gain/
Loss
%
Increase
2020-dated 25-coin roll set (P)
10,367
10,468
101
0.97%
2020-dated 25-coin roll set (D)
10,197
10,285
88
0.86%
2020-dated 100-coin bag (P)
1,473
1,481
8
0.54%
2020-dated 100-coin bag (D)
1,591
1,609
18
1.13%
2020-dated 250-coin box (P)
844
855
11
1.30%
2020-dated 250-coin box (D)
914
925
11
1.20%
2019-dated 25-coin roll set (P)
15,576
15,620
44
0.28%
2019-dated 25-coin roll set (D)
14,996
15,021
25
0.17%
2019-dated 100-coin bag (P)
1,749
1,771
22
1.26%
2019-dated 100-coin bag (D)
1,543
1,559
16
1.04%
2019-dated 250-coin box (P)*
1,734
1,734
–
–
2019-dated 250-coin box (D)
1,928
1,927
-1
-0.05%
2018-dated 25-coin roll set (P)*
17,392
17,392
–
–
2018-dated 25-coin roll set (D)*
16,555
16,555
–
–
2018-dated 100-coin bag (P)*
1,931
1,931
–
–
2018-dated 100-coin bag (D)*
1,930
1,930
–
–
2018-dated 250-coin box (P)*
1,865
1,865
–
–
2018-dated 250-coin box (D)*
1,874
1,874
–
–

Kennedy Half Dollar Rolls

Old
Sales
Latest
Sales
Gain/
Loss
%
Increase
2019-dated 200-coin bag (P&D)
8,511
8,548
37
0.43%
2019-dated 2-roll set (P&D)
21,162
21,247
85
0.40%
2018-dated 200-coin bag (P&D)*
9,498
9,498
–
–
2018-dated 2-roll set (P&D)*
22,622
22,622
–
–

America the Beautiful Quarters Uncirculated Coin Set

Old
Sales
Latest
Sales
Gain/
Loss
%
Increase
2020 Issue
20,988
19,963
-1,025
-4.88%
2019 Issue
27,610
27,672
62
0.22%
2018 Issue*
32,648
32,648
–
–
2017 Issue*
29,972
29,972
–
–

America the Beautiful Quarters Circulating Coin Set

Old
Sales
Latest
Sales
Gain/
Loss
%
Increase
2019 Issue
20,258
20,346
88
0.43%
2018 Issue
22,417
22,417
–
–
2017 Issue*
24,765
24,765
–
–
2016 Issue*
23,958
23,958
–
–

America the Beautiful Quarters Three-Coin Sets

Old
Sales
Latest
Sales
Gain/
Loss
%
Increase
National Park of American Samoa
12,244
12,409
165
1.35%
River of No Return
12,647
12,664
17
0.13%
San Antonio Missions
14,592
14,599
7
0.05%
War in Pacific
14,920
14,929
9
0.06%
American Memorial Park
14,292
14,295
3
0.02%
Lowell
14,433
14,447
14
0.10%
Block Island*
13,450
13,450
–
–
Cumberland Island*
13,560
13,560
–
–
Voyageurs*
14,424
14,424
–
–
Apostle Islands*
14,486
14,486
–
–
Pictured Rocks*
15,397
15,397
–
–
George Rogers Clark*
14,133
14,133
–
–
Ellis Island*
16,947
16,947
–
–
Ozark Riverways*
14,912
14,912
–
–
Frederick Douglass*
15,566
15,566
–
–
Effigy Mounds*
14,516
14,516
–
–
Fort Moultrie*
13,306
13,306
–
–
Theodore Roosevelt*
16,072
16,072
–
–
Harpers Ferry*
14,345
14,345
–
–
Cumberland Gap*
14,973
14,973
–
–
Shawnee*
15,474
15,474
–
–
Saratoga*
14,950
14,950
–
–
Bombay Hook*
13,400
13,400
–
–
Blue Ridge Parkway*
17,165
17,165
–
–
Kisatchie Set*
15,196
15,196
–
–
Homestead Set*
16,114
16,114
–
–
Everglades Set*
14,373
14,373
–
–
Great Sand Dunes Set*
14,119
14,119
–
–
Arches Three-Coin Set*
15,859
15,859
–
–
Shenandoah Three-Coin Set*
17,351
17,351
–
–
Great Smoky Mountains Set*
18,588
18,588
–
–
Mount Rushmore Quarters Set*
17,924
17,924
–
–
Fort McHenry Quarters Set*
16,345
16,345
–
–
Great Basin Quarters Set*
15,526
15,526
–
–
Perry's Victory Quarters Set*
17,643
17,643
–
–
White Mountain Quarters Set*
18,056
18,056
–
–
Denali Quarters Set*
18,193
18,193
–
–
Hawaii Volcanoes Quarters Set*
19,947
19,947
–
–
Acadia Quarters Set*
19,940
19,940
–
–
Chaco Culture Quarters Set*
20,028
20,028
–
–
El Yunque Quarters Set*
19,891
19,891
–
–
Chickasaw Quarters Set*
16,184
16,184
–
–
Vicksburg Quarters Set*
18,095
18,095
–
–
Olympic Quarters Set*
17,718
17,718
–
–
Glacier Quarters Set*
19,046
19,046
–
–
Gettysburg Quarters Set*
22,869
22,869
–
–
Mount Hood Quarters Set*
18,384
18,384
–
–
Grand Canyon Quarters Set*
22,133
22,133
–
–
Yosemite Quarters Set*
22,154
22,154
–
–
Yellowstone Quarters Set*
25,048
25,048
–
–
Hot Springs Quarters Set*
23,203
23,203
–
–

2020 National Park of American Samoa Quarters

Old
Sales
Latest
Sales
Gain/
Loss
%
Increase
100-Coin Bag (S)
3,701
4,198
497
13.43%
40-Coin Roll (S)
3,751
3,946
195
5.20%
Three-Roll Set
7,881
8,080
199
2.53%
100-Coin Bag (P)
2,110
2,200
90
4.27%
100-Coin Bag (D)
1,967
2,040
73
3.71%
Two-Roll Set
5,397
5,458
61
1.13%

2019 River of No Return Quarters

Old
Sales
Latest
Sales
Gain/
Loss
%
Increase
100-Coin Bag (S)
3,724
3,733
9
0.24%
40-Coin Roll (S)
3,520
3,526
6
0.17%
Three-Roll Set
8,053
8,065
12
0.15%
100-Coin Bag (P)
2,091
2,096
5
0.24%
100-Coin Bag (D)
2,034
2,036
2
0.10%
Two-Roll Set
5,643
5,646
3
0.05%

2019 San Antonio Missions Quarters

Old
Sales
Latest
Sales
Gain/
Loss
%
Increase
100-Coin Bag (S)
4,006
4,010
4
0.10%
40-Coin Roll (S)
3,677
3,684
7
0.19%
Three-Roll Set
8,640
8,652
12
0.14%
100-Coin Bag (P)
2,285
2,289
4
0.18%
100-Coin Bag (D)
2,210
2,213
3
0.14%
Two-Roll Set
5,915
5,919
4
0.07%

2019 War In The Pacific Quarters

Old
Sales
Latest
Sales
Gain/
Loss
%
Increase
100-Coin Bag (S)
4,087
4,090
3
0.07%
40-Coin Roll (S)
3,726
3,733
7
0.19%
Three-Roll Set
8,600
8,613
13
0.15%
100-Coin Bag (P)
2,324
2,328
4
0.17%
100-Coin Bag (D)
2,235
2,236
1
0.04%
Two-Roll Set
5,989
5,992
3
0.05%

2019 American Memorial Park Quarters

Old
Sales
Latest
Sales
Gain/
Loss
%
Increase
100-Coin Bag (S)
4,076
4,080
4
0.10%
40-Coin Roll (S)
3,853
3,858
5
0.13%
Three-Roll Set
8,451
8,459
8
0.09%
100-Coin Bag (P)*
2,455
2,455
–
–
100-Coin Bag (D)*
2,421
2,421
–
–
Two-Roll Set
6,049
6,051
2
0.03%

2019 Lowell Quarters

Old
Sales
Latest
Sales
Gain/
Loss
%
Increase
100-Coin Bag (S)*
4,006
4,006
–
–
40-Coin Roll (S)*
3,801
3,801
–
–
Three-Roll Set*
8,596
8,596
–
–
100-Coin Bag (P)*
2,435
2,435
–
–
100-Coin Bag (D)*
2,325
2,325
–
–
Two-Roll Set*
6,168
6,168
–
–