A joint product from The Perth Mint and Australia Post includes special stamps and a unique coin that commemorate the centenary of the Trans-Australian Railway.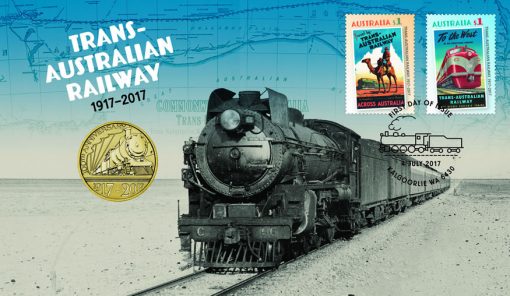 Opened on 22 October 1917, the railway linked the east and western coasts of Australia. The new product for collectors, called the Trans-Australian Railway 2017 Stamp and Coin Cover, includes two $1 stamps and an aluminum bronze $1 coin.
Each coin is housed in an illustrated card and presented in an envelope featuring photographic images of the railway. The card allows easy viewing of the stamps and both coin sides.
Coin reverses depict a typical locomotive used on the historic railway. Above the train is the inscription 100TH ANNIVERSARY. Below the train, and separated by a horizontal line of tracks, are dual dates of 1917-2017. The Mint's 'P' mintmark appears to the right of the train.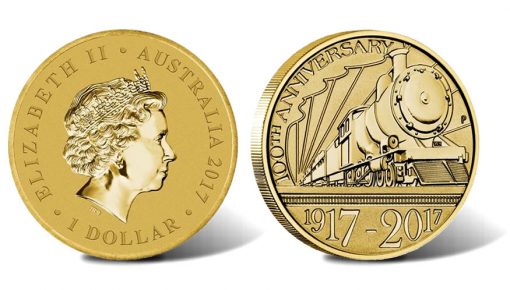 Issued as Australian legal tender, the coin's obverse shows the Ian Rank-Broadley effigy of Queen Elizabeth II with surrounding inscriptions of ELIZABETH II, AUSTRALIA, 2017, and 1 DOLLAR.
The official Australia Post $1 stamps feature vintage travel posters. The "Across the Australia" stamp depicts an iconic circa 1930 poster showing a figure on a camel viewing a G-class locomotive as it speeds across the desert. The "To the West" stamp showcases a stylized train, the first diesel locomotive GM1, in service between 1951 and 1967.
The stamps are postmarked for the first day of issue, 4 July 2017, and the envelope includes Australia Post's Seal of Authenticity.
Ordering
Priced at AUS $16.32, which is about US $12.50, the Trans-Australian Railway 2017 Stamp and Coin Cover is available from Mint's website at permint.com.au. An affiliate link to the collectible is
right here.