The complete set of the Australian Bush Babies Stamp and Coin Covers is now available for order which features products from both The Perth Mint of Australia and the Australia Post (http://auspost.com.au/).

The two entities have teamed together to create a collector set which merges the interests of two extremely popular hobbies — stamp and coin collecting.
Included in the set are five unique Perth Mint aluminum bronze coins featuring reverse designs of different baby creatures found in the wilds of Australia. The coins are joined by five official Australia Post stamps showcasing the same baby designs which are affixed to envelopes bearing enlarged versions of the remarkable imagery.
"In these outstanding designs for Australian Bush Babies, Elise Martinson portrays each beautiful baby animal with their eyes bright and alert, set against a background of Australian flora," states The Perth Mint.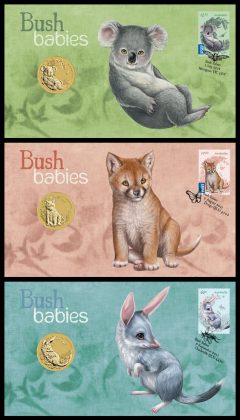 The set of five Bush Babies Stamp and Coin Covers includes pieces depicting baby koalas, dingos, bilbys, sugar gliders and kangaroos. The first two (koala and dingo) are currently available separately from the Perth for AUS $14.50 (~$15 US). The remaining three are scheduled to be issued individually over the next three months.
Those wanting to insure delivery of the complete series of five can place an order for the set now. Collectors have already shown intense interest in the designs, resulting in sell-outs of the related 1/2 ounce silver proof coins.
Each coin in the set will come housed on a specially designed card which fits inside the illustrated envelope affixed with the appropriate stamp. The envelope includes a circular window allowing the holder to view both the obverse and reverse of the coin inside. Additionally, every envelope is endorsed with Australia Post's Seal of Authenticity and official number.
The Perth Mint is currently selling the set for AUS $72.68 (~$75 US). Orders may be placed at the Perth Mint Shop at 310 Hay Street in East Perth, by telephoning FREECALL 1800 098 817 or via the Mint's online store at http://www.perthmint.com.au/.
See other Perth Mint coin highlights from this site's Australian Coin Guide.
About the Perth Mint
The Perth Mint is a wholly-owned subsidiary of the State Government of Western Australia. It is the official issuer of the Australian Federal Government's Gold and Silver Bullion Coin Program.
The Mint opened in 1899 in response to the discovery of rich gold deposits in Coolgardie and Kalgoorlie. The Perth Mint remained under Britain's jurisdiction until 1 July 1970, when ownership transferred to the State Government of Western Australia where it has continued to be one of the most celebrated minting facilities of the world.