Four hundred years have passed since the European discovery of the Australian continent by Dutch explorer Dirk Hartog. The Perth Mint is commemorating the anniversary with a unique stamp and coin cover.
The included $1 coin is emblematic of the historic occasion and the companion $2.00 stamp is canceled with a postmark from the area of the landing.
Hartog inadvertently found the Australian continent on an expedition to the western Java trading city of Bantam. He spent two days in the region known today as Shark Bay before continuing on his journey. He left evidence of his landing in the form of an inscribed pewter plate which was discovered in the centuries since and is now considered the oldest European object ever found on Australian soil.
The cover's official $2 stamp is canceled with a postmark from Denham, the administrative town for the Shire of Shark Bay. It is affixed to an illustrated envelope that includes Australia Post's Seal of Authenticity. The dollar is housed in an illustrated display card with a circular window for easy viewing of the coin's designs.
Created by Wade Robinson, the reverse depicts a telescopic view of Dirk Hartog's ship, the Eendracht, sailing across the ocean aside a compass rose. Surrounding inscriptions include DIRK HARTOG FIRST LANDING, OCTOBER, 1616, a map outline of Australia, and the Perth Mint's 'P' mintmark.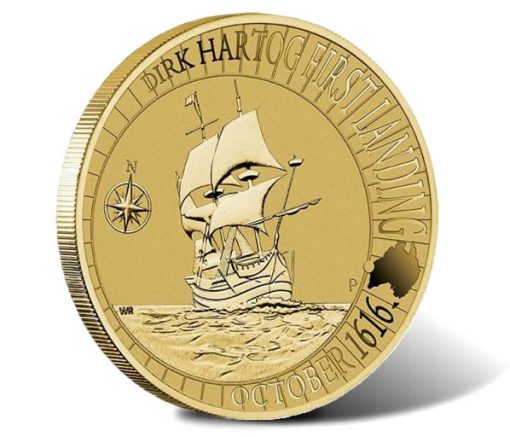 Each coin is minted in aluminum bronze to uncirculated quality. Its face value is indicated on the obverse with the inscription of 1 DOLLAR, which joins ELIZABETH II, AUSTRALIA and 2016. These inscriptions circle the Ian Rank-Broadley effigy of Queen Elizabeth II.
Ordering
Priced at AUS $16.32 or about US $12.50, order the stamp and coin cover by following
our affiliate link to Perth Mint's website at www.perthmint.com.au.