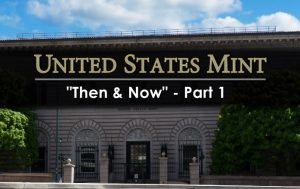 Earlier this month, the United States Mint introduced a video series as a part of its 225th Anniversary.
Entitled "Then & Now," the six-segment program will highlight aspects of producing coins from 1940 to today.
Part 1 is already released. The next five segments will launch at the rate of one per month over the next six months. Their titles and release dates are:
Part 1: "The Early Years" (February)
Part 2: "Sculpting-Engraving" (March)
Part 3: "Hub and Die Process" (April)
Part 4: "Penny Production" (May)
Part 5: "Blanking, Annealing and Tumbling" (June)
Part 6: "Coin Press and Bagging" (July)
Part 1, "The Early Years," borrows footage from the Columbia production "Washington Parade – The Mint," which was produced in 1940 as part of another series to show facets of the federal government. It includes historical video of the U.S. Mint facilities in San Francisco, Denver and Philadelphia.
The 1:49 second video, embedded below, then switches to present-day footage of Mint facilities producing modern coins.
According to the Mint, the series was made possible thanks to media support from the U.S. National Archives, music from the U.S. Army and U.S. Air Force bands, as well as documentary footage provided by Columbia Pictures.