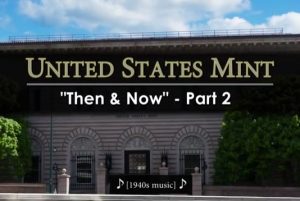 The United States Mint this month released the second installment from its "Then & Now" video series.
Honoring its 225th Anniversary, the video program features aspects of producing coins from 1940 to today.
Part 1: 'The Early Years," debuted in February and includes historical and modern-day footage of U.S. Mint facilities in Philadelphia, Denver and San Francisco.
The latest segment, Part 2: "Sculpting-Engraving," takes the same old-to-new approach, highlighting traditional skills of sculpting in clay and advancing to more modern techniques of sculpting digitally. The 1:35 video is embedded below.
Forthcoming videos and their release dates are:
Part 3: "Hub and Die Process" (April)
Part 4: "Penny Production" (May)
Part 5: "Blanking, Annealing and Tumbling" (June)
Part 6: "Coin Press and Bagging" (July)
According to the Mint, the "Then & Now" series was made possible thanks to media support from the U.S. National Archives, music from the U.S. Army and U.S. Air Force bands, as well as documentary footage provided by Columbia Pictures.
Watch current and past segments right here.