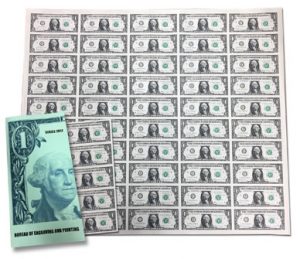 Today at 8:00 a.m. EST, the Bureau of Engraving and Printing (BEP) started selling uncut currency sheets of Series 2017 $1 Federal Reserve notes.
These dollars bear the signatures of U.S. Treasury Secretary Steven T. Mnuchin and U.S. Treasurer Jovita Carranza.
Printed on presses that use large currency paper, the notes are available in a full sheet of 50 and in the smaller subject sizes of 5; 10; 20; and 25. Prices are:
5 subject sheet for $18.50,
10 subject sheet for $27,
20 subject sheet for $43,
25 subject sheet for $50.50, and
50 subject sheet for $86.
Each has respective premiums of $13.50, $17, $23, $25.50, and $36. The BEP ships free and does not charge tax.
Ordering
The new Series 2017 $1 Uncut Currency Sheets are available from the BEP online store at www.moneyfactorystore.gov/uncutcurrency.aspx.
BEP money products are also available by telephone (1-800-456-3408), by fax (1-888-891-7585), International fax (202-874-1788), at the Washington, DC and Fort Worth, Texas Visitor Center Gift Shops; and by mail order at:
Bureau of Engraving and Printing
Mail Order Sales, 515M
14th and C Streets SW
Washington, DC 20228
About the BEP
While the Bureau of Engraving and Printing makes and sells detailed intaglio prints and engravings, it is best known for producing United States currency. The bureau prints billions of Federal Reserve Notes each year for delivery to the Federal Reserve System. These notes are produced at facilities in Washington, DC, and Fort Worth, TX.