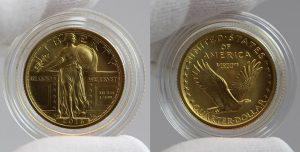 Ordering restrictions for the 2016-W Standing Liberty Centennial Gold Coin will be lifted Wednesday, Sept. 21, the United States Mint said today in an email notice to news editors.
The .9999 fine 24-karat gold quarter has two maximums now — a 100,000 mintage and 1-coin for each household. The top limit will remain but collectors and dealers tomorrow will be able to order as many as they want.
Buying activity was furious early when the gold coin launched Sept. 8. It was a challenge to get in orders because the Mint's online system had problems handling so many requests. Everything normalized around the 30-minute mark.
In recapping sales, the U.S. Mint logged first-day orders totaling 47,884 coins. Another 5,494 sold during the first weekend ended Sept. 11. The latest figures through Sunday, Sept. 18, have sales up 1,498 to 54,876 coins.
The U.S. Mint's product page for the collectible is right here. Place phone orders using 1-800-USA-MINT (872-6468).
We'll publish photos of the gold quarter this week.