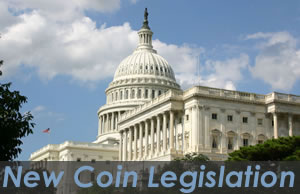 A new House bill is calling for gold, silver and clad coins to feature designs celebrating the 400th anniversary of the landing and settlement of Plymouth Colony, the signing of the Mayflower Compact, and the role of the Wampanoag people personified by the "First Thanksgiving" feast.
Modern commemorative coins are typically produced and sold for only one calendar year. For the Plymouth 400th Anniversary Commemorative Coins, however, the United States Mint could issue them during a 2-year period beginning January 1, 2020. They would carry inscriptions of the year 2020, 2021 or 2020-2021.
Rep. Bill Keating introduced the Plymouth 400th Anniversary Commemorative Coin Act of 2016, numbered H.R. 5598, on June 28, 2016.
"With this anniversary, we celebrate the successful settlement at Plymouth by the Pilgrims and the essential contributions of the Wampanoag tribes, as well as a number of key events that followed, including the signing of the Mayflower Compact, the 50-year Pilgrim-Wampanoag peace treaty, and the First Thanksgiving," Congressman Keating said in part. "2020 will be a great year for our community and our country and I look forward to all the good things to come."
If the bill passes in both chambers of Congress and is signed by the President, the United States Mint in calendar years 2020-2021 will produce and sell up to:
100,000 $5 gold coins;
500,000 silver dollars; and
750,000 clad half-dollars.
These commemorative coins would be minted in collector qualities of proof and uncirculated.
Under the terms of H.R. 5598, a surcharge of $35 per gold coin, $10 per silver dollar and $5 per clad half-dollar would be added to each coin sale. Collected funds would be shared between Plymouth 400, Inc., Plimouth Plantation, a Wampanoag tribal organization, the General Society of Mayflower Descendants, and the Pilgrim Society.