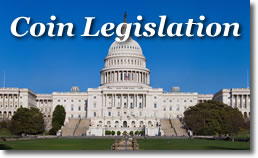 Companion House and Senate bills are calling for 2020-dated coins to commemorate the 400th anniversary of the landing of the Mayflower and settlement of Plymouth Colony, as well as the signing of the Mayflower Compact near Provincetown and the role of the indigenous Wampanoag Tribes in the realization of the settlement.
Named the "Plymouth 400th Anniversary Commemorative Coin Act of 2017," the House (H.R.4539) and Senate (S.2189) bills seek up to 100,000 $5 gold coins, as many as 500,000 silver dollars, and a maximum of 750,000 half-dollars with designs emblematic of the anniversary. The United States Mint would strike them in collector finishes of proof and uncirculated.
Designs of the 2020 Plymouth 400th Anniversary Commemorative Coin would be selected by the Treasury Secretary after consulting with several groups and organizations and the Commission of Fine Arts (CFA), and reviewed by the Citizens Coinage Advisory Committee (CCAC).
Their sales would include surcharges to aid the financing of a suitable national observance in 2020 and 2021 of the 400th anniversary of the Pilgrim landing and historic events, including:
the signing of the Mayflower Compact,
the first shared harvest,
interaction with the indigenous Wampanoag people, and
other significant events of the period.
The bills are not new in the sense that an earlier version (H.R.5598) was introduced in the last session of Congress. That one died from inaction. The latest bills were introduced Dec. 4 by Sen. Ed Markey (D-MA) and Rep. Bill Keating (D-MA). Both have been referred to committees.
For the act to become law, it must pass in the House and Senate and get signed by the President.