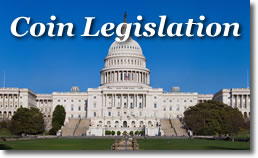 House legislation introduced Oct. 12, 2017, calls for 2020-dated commemorative coins to honor the 75th anniversary of the end of the Second World War.
The United States entered the war after the surprise attack on Pearl Harbor on Dec. 7, 1941. It ended Sept. 2, 1945, after the unconditional surrender of Nazi Germany, Fascist Italy, and Imperial Japan.
Named the 75th Anniversary of the End of World War II Commemorative Coin Act and numbered H.R. 4044, the bill was introduced in the House by Rep. Steve Scalise (R-LA) and has 20 cosponsors. It joins U.S. Senate version, S. 1718, brought forward Aug. 2 by Sen. John Kennedy (R-LA) with 16 cosponsors.
The Act would authorize the United States Mint to produce and sell up to 50,000 $5 gold coins; no more than 500,000 silver dollars; and as many as 750,000 clad half-dollars with designs that are emblematic of the:
"Great sacrifices made by millions of people of the United States 75 years ago to bring a victorious end to World War II."
In a design requirement, the bills state that each coin must depict a representation of the World War II Victory Medal. The medal was awarded to all 16 million United States military personnel who served from Dec. 7, 1941, to Dec. 31, 1946.
75th Anniversary WWII Commemorative Coin designs would be selected by the Treasury Secretary after consulting with the Adjutant of The National WWII Museum (www.nationalww2museum.org) and the Commission of Fine Arts, and reviewed by the Citizens Commemorative Coin Advisory Committee.
The U.S. Mint would strike the coins in collector qualities of proof and uncirculated and offer them for sale only during calendar year 2020.
Sales of the commemorative coins would include surcharges for The National WWII Museum Inc. to fund its educational mission of telling the story of the United States experience in World War II.
For the Act to become law, it must pass in the House and Senate and get signed by the President.