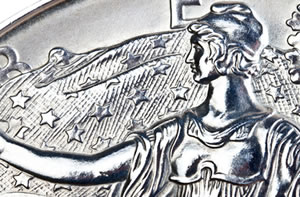 The United States Mint on Monday established the final weekly allocation of American Eagle silver bullion coins. The agency has limited sales of the one-ounce, .999 fine silver coins for most of the year because of silver planchet shortages.
This week's allocation climbed 5.1% to 1,130,000 coins. Last week's supply jumped 16.8% to 1,075,000 coins from the prior weekly limit of 920,500 coins. The U.S. Mint stopped striking 2015-dated American Silver Eagles last week so it can start building an inventory of new coins for next year. The 2016-dated American Silver Eagle launches on Jan. 11.
Even with rationing, 2015 Silver Eagles scored a sales record that continues to grow. The record can top out at 47,000,000 coins, up 6.8% from the previous annual sales record set in 2014 at 44,006,000 coins.
Produced annually since 1986, the U.S. Mint does not sell American Eagle silver bullion coins directly to the public. They are instead sold through a network of authorized purchasers. AP's, consisting of major coin and bullion dealers, brokerage companies, and other participating financial intermediaries, pay the U.S. Mint $2 more than the spot value of each coin they buy.
The limited availability of Silver Eagles has given sellers a reason to charge higher premiums. Today, consumers are paying from about $4 to $5.50 per coin over spot with discounts offered at larger quantities.