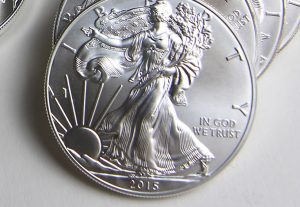 More American Eagle silver bullions coins are available this week than in the previous two weeks, although that may not matter to buyers who haven't ordered as many as they could since earlier this month.
The United States Mint has limited sales of American Silver Eagles since their return after temporarily selling out in July. This week's allocation level advanced 4.4% to 1,043,500 coins. Last week's amount slipped 3% to 970,000 coins from the prior week's supply of 1 million coins.
Weekly inventories through most of the summer sold within a few days of their release. That hasn't been the case for two straight weeks with a combined 113,500 coins left on the table.
The U.S. Mint does not sell bullion Silver Eagles straight to the public. They are sold through a network of authorized purchasers. AP's consist of major coin and precious metals dealers, brokerage companies, and other participating financial intermediaries. They must pay $2 more than the spot value of each coin they buy.
Sales of the 1-ounce, .999 fine silver coins at 38,986,000 for the year are on track for an annual record, up 8.1% through the same time in 2014. Last year when sales ended at a record totaling 44,006,000, the coins through Oct. 23, 2014 posted sales of 36,066,000.