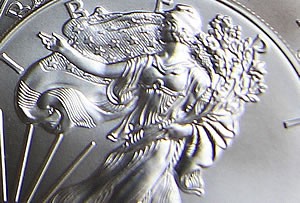 Demand in May for American Eagle gold and silver bullion coins retreated sharply from the prior month and from a year earlier, United States Mint sales figures show.
U.S. Mint coin sales are usually never spectacular in May. The only real surprise was how far sales dropped for the agency's American Silver Eagles.
American Eagle Silver Bullion Coins
Last month, sales of American Silver Eagles posted their lowest total since July 2014. The 99.9% fine silver coins advanced 2,023,500 ounces, falling 29% from sales of 2,851,500 ounces in April and tumbling 49.3% from May of last year when sales surged by 3,988,500 ounces — the thirteenth highest month all-time.
Silver Eagle sales in the January to May period total 16,946,000, which is already higher than annual sales of all but 7 years since the series launched in 1986, but 21% slower than last year's starting five-month total of 21,436,500 coins. The annual Silver Eagle sales record happened last year at 44,006,000 coins.
With sales slowed, the U.S. Mint on Thursday announced an end to Silver Eagle rationing. As of today, June 1, buyers can order as many as they like.
American Eagle Gold Bullion Coins
American Gold Eagles tacked on 21,500 ounces last month, dropping 27.1% from sales of 29,500 ounces in April and sliding 39.4% from the May 2014 total of 35,500 ounces.
In the January to May period, U.S. Mint distributors ordered 197,000 ounces for a 9.4% decline in sales from the 217,500 ounces sold during the same time last year. The five-month start is the slowest since 2008.
American Eagle gold coins have a 22-karat composition and come in four size options — 1 ounce, 1/2 ounce, 1/4 ounce and 1/10 ounce. These correspond to denominations inscribed on the coins of $50, $25, $10 and $5. All sizes advanced in May, with a breakout for each coin published further below.
American Buffalo Gold Bullion Coins
American Buffalo gold coins climbed 9,500 compared to 10,000 in the prior month and 12,500 in May of last year.
Sales of the 24-karat gold coin through the first five months of this year tag in at 75,500, markedly down from the 95,500 sold during the same period in 2014.
America the Beautiful Five Ounce Silver Bullion Coin Sales
Sale of 2015 America the Beautiful Five Ounce Silver Bullion Coins moved up 12,000 in May after climbing 30,000 in April. These coins, struck in multiple designs each year, have varying release dates so monthly comparisons are not very telling. All sales came from the Kisatchie National Forest Five Ounce Silver Coin. The bullion coin was released on April 20 and sold out on May 7. No five once coins are available. The next one launches on June 22. It has a reverse design honoring Blue Ridge Parkway in North Carolina.
Sales this year by coin breakdown with:
2015 Kisatchie National Forest Five Ounce Silver Bullion Coins up 12,000 in May and selling out at 42,000.
2015 Homestead National Monument of American Five Ounce Silver Bullion Coins selling out at the end of March with sales of 35,000.
2014 Shenandoah National Park Five Ounce Silver Coins advancing 600 in January and selling out at 25,000.
Orders of the 99.9% pure silver coins tally to 77,600 coins or 388,000 ounces through the first five months of 2015. Sales of the released 2015 coins are higher than any issue from 2014. Last year's 2014-dated ATB coins posted sales of 46,100 coins or 230,500 ounces through May.
US Mint Bullion Sales by Product
Below are U.S. Mint bullion sales by product type. For comparative purposes, included are totals from a year ago and from prior months in 2015.
United States Mint Bullion Coin Sales (# of coins)
May 2014
Jan 2015
Feb 2015
March 2015
April 2015
May 2015
YTD Sales
$50 American Eagle 1 oz Gold Coins
29,000
51,500
12,500
35,000
23,500
13,500
136,000
$25 American Eagle 1/2 oz Gold Coins
3,000
18,000
2,000
5,000
4,000
3,000
32,000
$10 American Eagle 1/4 oz Gold Coins
6,000
36,000
0
8,000
4,000
10,000
58,000
$5 American Eagle 1/10 oz Gold Coins
35,000
115,000
50,000
70,000
30,000
40,000
305,000
$50 American Buffalo 1 oz Gold Coins
12,500
34,500
12,000
9,500
10,000
9,500
75,500
ATB 5 oz Silver Coins
23,100
600
20,000
15,000
30,000
12,000
77,600
2015 American Eagle 1 oz Silver Coins
3.9885M
5.53M
3.022M
3.519M
2.8515M
2.0235M
16.946M
U.S. Mint bullion coins are sold to authorized distributors who resell them to the public and other companies like coin and bullion dealers. Bullion coins, whether gold or silver, are usually available for a few percentage points above the latest value of their precious metal content.