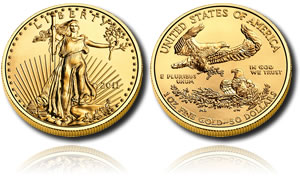 United States Mint bullion sales of American Gold Eagle coins registered a third straight month of declining numbers in November. Just 41,000 ounces of the 22-karat bullion coins were ordered by the Mint's network of authorized purchasers, the lowest monthly total seen since June 2008.
The downward trend started in September after August reached the second highest monthly total of the year at 112,000 ounces. September sales came in at only 91,000 ounces with October falling further to 50,000 ounces.
Of the 41,000 ounces sold during November, the United States Mint indicates that a majority came from the one ounce strike. 38,500 were purchased. The Mint also produces the American Gold Eagle in 1/2 ounce, 1/4 ounce and 1/10 ounce sizes. While more affordable, they generally carry higher premiums above spot and fewer are sold. That trend continued. Buyers did not order any of the half-ounce coins last month. They did order 4,000 quarter-ounce Eagles for a total of 1,000 ounces and 15,000 tenth-ounce Eagles for a total of 1,500 ounces.
Investors are shying away from American Eagle bullion coins altogether. November Silver Eagle sales also turned up dismal numbers. Like the American Gold Eagle tally, the .999 fine Silver Eagle total of 1,384,000 ounces was the lowest since the summer of 2008. It was around that same time that investors started turning to Eagles as a hedge against economic uncertainties.
Still, the slow-down will not prevent 2011 from becoming one of the best ever American Gold Eagle years, as the table below shows:
Top Ten Annual American Gold Eagle Bullion Sales
| | | |
| --- | --- | --- |
| RANK | YEAR | SALES (in ounces) |
| 1 | 1999 | 2,055,500 |
| 2 | 1998 | 1,839,500 |
| 3 | 1986 | 1,787,750 |
| 4 | 2009 | 1,425,000 |
| 5 | 1987 | 1,253,000 |
| 6 | 2010 | 1,220,500 |
| 7 | 2011 | 934,500* |
| 8 | 2008 | 860,500 |
| 9 | 1997 | 771,250 |
| 10 | 1988 | 560,000 |
*2011 figures are not final as they do not include any December sales
2011 currently holds the ranking as the seventh best year ever for the coins with current year-to-date bullion sales of 934,500 ounces. That annual ranking will stand at seventh as 286,000 more would need to be recorded during the month of December to move into the sixth best slot. Monthly figures have not reached that level since 1986 when each of the final three months of the year returned higher numbers. Those three months served as the first three of the entire American Eagle coin series which debuted in October 1986.
American Gold Eagle bullion coins are sold by the United States Mint only to its network of authorized purchasers. The network resells the coins to the public for a small premium above the current spot price of the gold contained within them.
Shown on the obverse of each coin is Augustus Saint-Gaudens' Liberty design as first seen on the 1907 Gold Double Eagle. The reverse shows Miley Busiek's family of eagles.
American Gold Buffalo Bullion Sales
The United States Mint also reported bullion sales of 8,500 ounces for its American Gold Buffalo coin. That was down 4,000 from the previous month and the weakest monthly level since June 2011's 5,500 ounces were delivered. American Gold Buffalo coins differ from their American Gold Eagle counterpart with their pure 24-karat, or .9999 fine gold composition and western heritage designs. The Buffalo coin's annual total is currently at 153,500 ounces. The Buffalo and Eagle gold series have combined 2011 bullion sales of 1,088,000 ounces.