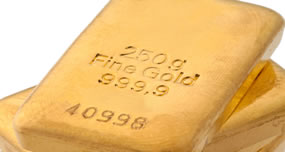 Gold prices inched higher Friday, extending their consecutive winning sessions to four, setting a fresh three-month high, and sustaining momentum to post a second straight weekly increase.
Gold for June delivery rose 10 cents to end the week at $1,225.30 an ounce on the Comex division of the New York Mercantile Exchange. The settlement price is the highest in three months, since Feb 13 when gold closed at $1,227.10 an ounce.
Gains in the yellow metal have been supported by weaker-than-expected economic data, and a resulting falling U.S. dollar.
"Our view is that the underlying data is getting weaker and it has been weak for a while but I think there are still some in the market that seem to be holding out hope that maybe we will get a rebound in the U.S.," Reuters quoted Mike Dragosits, senior commodity strategist for TD Securities in Toronto. "But that doesn't appear to be the case and that's why we're trading at the top end of these ranges."
Gold prices rallied 3.1% on the week and they are 3.5% higher than their final 2014 settlement of $1,184.10 an ounce. In looking ahead, Kitco News offers the following in their Wall Street vs. Main Street survey:
"For Kitco's online survey, 314 people voted; of those, 162 participants, or 52%, expect to see higher gold prices next week while 101 people, or 32%, see lower prices and 51, or 16%, are neutral.

This week, out of 34 market experts contacted, 18 responded; of those, 11 participants, or 61%, see higher prices, two experts, or 11%, see lower prices and 5, or 28%, are neutral on the gold market."
Silver for July delivery also climbed 10 cents on Friday, about 0.6%, to settle at $17.56 an ounce. The close was the highest since Jan. 27. Silver prices soared 6.7% on the week and they are 12.6% higher on the year.
In PGM futures on Friday and for the week:
July platinum added $6.70, or 0.6%, to $1,169.10 an ounce, rising 2.2% from a week ago.

Palladium for June delivery tacked on $15.45, or 2%, to $794.95 an ounce but declined 0.9% on the week.
For the year to date, platinum is down 3.3% and palladium is off 0.4%.
London Precious Metals Prices
London precious metals prices were mixed on Friday and on the week. In comparing London bullion prices from Thursday PM to Friday PM:
Gold slipped $4.50, or 0.4%, to $1,220.50 an ounce,
Silver lost 15 cents, or 0.9%, to $17.25 an ounce,
Platinum added $6, or 0.5%, to $1,158 an ounce, and
Palladium rose $6, or 0.8%, to $785 an ounce.
Their weekly levels logged in at gains of 2.9% for gold, 5.8% for silver and 1.6% for platinum. Palladium fell 1.6% from a week ago.
US Mint Bullion Coin Sales in May
United States Mint bullion sales slowed — sharply for silver coins. In the latest weekly bullion sales comparisons:
Gold coins added 4,500 ounces after rising 7,000 ounces in the prior week. Splits were 2,500 ounces in American Gold Eagles compared to 5,500 ounces previously and 2,000 ounces in American Gold Buffalo coins compared 1,500 ounces previously.

Silver coins rose just 225,000 ounces after surging 893,500 ounces in the previous week — the fourth strongest weekly gain this year. All sales came from American Silver Eagles as the Kisatchie five ounce coin sold out a week ago Thursday.
Below is a listing of U.S. Mint bullion products that shows the number of coins sold during varying periods. Products with an asterisk (*) are no longer available.
US Mint Bullion Sales (# of coins)
Friday Sales
Last Week
Weekly Sales
April Sales
May Sales
YTD Sales
$50 American Eagle 1 Oz Gold Coins
0
2,500
1,000
23,500
3,500
126,000
$25 American Eagle 1/2 Oz Gold Coins
0
0
2,000
4,000
2,000
31,000
$10 American Eagle 1/4 Oz Gold Coins
0
6,000
0
4,000
6,000
54,000
$5 American Eagle 1/10 Oz Gold Coins
0
15,000
5,000
30,000
20,000
285,000
$50 American Buffalo 1 Oz Gold Coins
0
1,500
2,000
10,000
3,500
69,500
$1 American Eagle 1 Oz Silver Coins
0
833,500
225,000
2,851,500
1,058,500
15,981,000
2015 Homestead 5 Oz Silver Coins*
–
35,000
2015 Kisatchie 5 Oz Silver Coins*
0
12,000
0
30,000
12,000
42,000