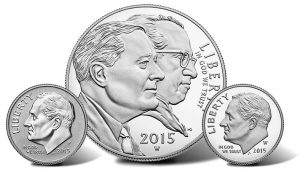 The United States Mint's new March of Dimes Special Silver Set moved out of the gate swiftly, scoring first-day sales of 52,540. That's 70.1% of the maximum 75,000 sets sold within the first 12 hours of their release. An eventual sellout appears in the works.
Sets went into backorder within an hour of their release, with the U.S. Mint's online status for them stating:
"This item is available to be ordered now, but it is not currently in stock. Additional inventory is being made. Please add the item to your cart to see when additional inventory is expected to be available."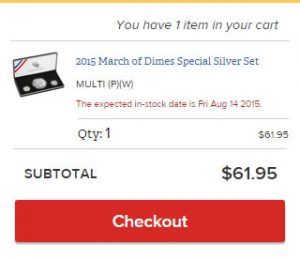 Early orders are already shipping. Those now just getting around to buying will have to wait some time to get sets in hand. Their expected in-stock date is Friday, August 1, 2015, according to the Mint's website.
Sets launched at noon ET on Monday, May 4. They include a proof March of Dimes Silver Dollar and two unique Roosevelt silver dimes — one in reverse proof from Philadelphia and another in regular proof from West Point. Both mark firsts for the Mint. That's very attractive to coin collectors, as are the dimes eventual mintages. The pair will not be sold outside of the set. Even at the 75,000 max level, they will have the lowest mintage in the Roosevelt dime series.
Worth mentioning, many buyers commented about the smoothness of their traction. A stark contrast to collectors' experiences before the Mint launched their new website and ordering management system.