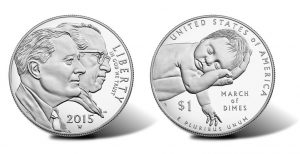 United States Mint silver dollars commemorating the 75th anniversary of the March of Dimes launch on Mar. 13, 2015. Later this year, the U.S. Mint will also offer a three-coin set that has one of the silver dollars and two unique dimes.
"The 2015 March of Dimes Silver Dollar commemorative coin program will include a 2015 March of Dimes Special Silver Set containing a March of Dimes Proof Silver Dollar, a 90 percent silver proof Roosevelt dime struck at the West Point Mint with a W mint mark, and a 90 percent silver reverse proof Roosevelt dime struck at the Philadelphia Mint with a P mint mark," U.S. Mint spokesman Michael White said on Friday, Feb. 6.
The silver dollar is one of the two that go on sale individually in March, with the other an uncirculated version. Both dimes mark the first of their kind. Proof silver dimes are familiar to coin collectors. United States Mint Silver Proof Sets have included them for years. But the U.S. Mint in San Francisco makes them and they feature a 'S' mint mark. And the Mint has never struck a reverse proof dime.
White said that the set's on-sale date, pricing, product limit and order limits will be announced at a later date.