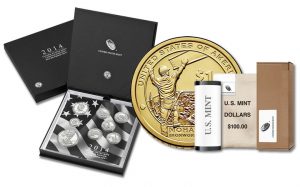 Old coins as well as new coins are included in product releases from the United States Mint this week.
On Tuesday, the U.S. Mint introduces its annual Limited Edition Silver Proof Set for $139.95, but it's for last year. Packaging issues are the reason for the delay. The set comes complete with eight 2014-dated coins and includes the 2014 Proof American Silver Eagle.
Then on Thursday, the Mint begins selling rolls, bags and boxes of circulating quality 2015 Native American $1 Coins at prices ranging from $32.95 to $111.95.
Products launch beginning at 12 Noon ET and sell from www.usmint.gov/catalog. We'll talk more about these products on their release day. Until then, here are last week's five most read: