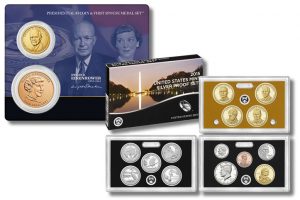 This week is similar to last week with more world coins and United States Mint product releases.
On Tuesday, May 12, the U.S. Mint will issue the Eisenhower Presidential $1 Coin & First Spouse Medal Set for $9.95. This set includes an uncirculated Eisenhower $1 and a bronze medal in the likeness of Mamie Eisenhower First Spouse Gold Coins.
One of the U.S. Mint's core annual products, the 2015 Silver Proof Set, launches on Thursday, May 14. Priced at $53.95, the set has 14 coins, and broken out there are 7 coins in standard compositions and 7 other coins in 90% silver. These sets are popular with collectors. More than 150,000 should sell during the first few days.
Products from the U.S. Mint launch beginning at 12 Noon ET on their release day. As always, we'll cover their releases here on CoinNews.net, and talk about the new world coins. Until then, here are last week's five most read: