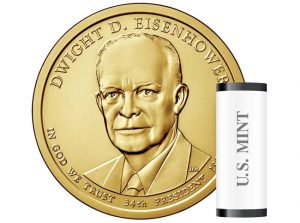 Look ahead to new collector products this week, with more coins from the United States Mint and the Royal Canadian Mint.
The U.S. Mint kicks things off on Monday, at noon ET, with Eisenhower Presidential $1 Coins in rolls, bags and boxes.
As a reminder, and also on Monday but at 3 p.m., the Mint will increase prices on commemorative March of Dimes Silver Dollars. That topic was among last week's most read articles, with the top five listed further below.
Speaking of popular articles, another was about Sunday's airing of two coin-related segments on "CBS Sunday Morning." We've updated that article with links of the segments which are now online.
Last Week's Five Most Read
Here are links and summaries of last week's most popular articles: