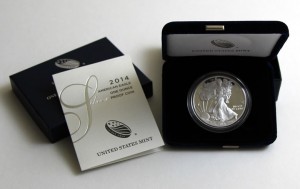 It'll be another short week of coin news, with New Years coming up and most of the world mints taking a break from releases until next week.
U.S. coin collectors can look forward to Friday's release from the U.S. Mint of their 2015 Proof American Silver Eagle. The annually issued coin will probably be the most collected product of 2015. This year's proof Silver Eagle had sales of 740,746 as of a week ago.
We'll talk more about the Silver Eagle on its release day. Plus, we plan to publish some end-of-year pieces, talk more about product sales, and we hope to have some photos of the recently issued 2014 Franklin D. Roosevelt Coin and Chronicles Set.
Until then, here are last week's five most read: