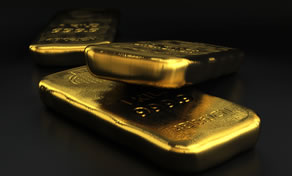 Gold, silver and other precious metals posted declines on Tuesday, deepening their losses in September and for the quarter.
On the flip side, investors saw bargains and scooped up large amounts of United States Mint bullion products with sales of gold and silver coins at multi-month highs.
Gold for December delivery declined $7.20, or 0.6%, to settle at $1,211.60 an ounce on the Comex division of the New York Mercantile Exchange. The closing price marks a fresh 2014 low.
"It's really been the dollar that probed gold lower since the beginning of July," Adrian Day, the president of Adrian Day Asset Management in Annapolis, Maryland, said in a telephone interview according to Bloomberg News.
As for September, gold prices fell 5.9%. They dropped 8.4% for the third quarter. Gold is holding on to a slight year-to-date gain of 0.8%.
Silver tumbled the most among metals. On Tuesday, silver for December delivery dropped 51 cents, or 2.9%, to close at $17.06 an ounce. In September, silver prices tumbled 12.5%. They gave back 19% in the quarter and are off 11.9% on the year to date.
"Silver is gold on steroids and tends to exaggerate the moves," Day added.
In PGM futures on Tuesday:
January platinum shed $9, or 0.7%, to end at $1,300.50 an ounce..

Palladium for December delivery lost $14.35, or 1.8%, to settle at $775.15 an ounce.
For the month and quarter, platinum fell 8.7% and 12.3% while palladium plummeted 14.8% and 8.1%. This year platinum is down 5.3% while palladium has gained 7.9%.
London Fix Precious Metals
Earlier fixed London precious metals declined as well — for the day, month and quarter. When comparing the London bullion Fix prices and the LBMA Silver Price from Monday PM to Tuesday PM:
Gold retreated $3, or 0.3%, to $1,216.50 an ounce,
Silver fell 47 cents, or 2.7%, to $17.11,
Platinum shed $6, or 0.5%, at $1,300 an ounce, and
Palladium declined $11, or 1.4%, to $775 an ounce
In September, losses stacked to 5.4% for gold, 12.1% for silver, 8.7% for platinum and 13.7% for palladium.
As for the third quarter, losses were 7.5% for gold, 18% for silver, 12.2% for platinum and 8.2% for palladium. And finally, for the year so far, advances include 1.3% for gold and 9% for palladium while declines total 12.3% for silver and 4.3% for platinum.
US Mint Bullion Coin Sales
U.S. Mint bullion sales are yet to close officially for the month, though they are not expected to change. CoinNews.net will publish a more detailed analysis later, but in summary:
American Eagle gold coins gained 58,000 ounces in September after sales of 25,000 ounces in August. The monthly amount is the second highest this year, behind sales of 91,500 ounces in January when the 2014-dated versions debuted. 2014 sales now total 379,000 ounces, still well below the 704,000 ounces sold during the first nine months of 2013.

2014 American Eagle silver coins advanced 4,140,000 in September following the prior month's pick up of 2,007,000. The amount is the highest since sales of 5,354,000 in March. Silver Eagle sales for the year are at 32,251,000, the second quickest pace in the coin's 29-year history. Silver Eagle sales in record year 2013 hurdled just over 36 million through September 2013.

American Buffalo gold coins jumped 14,500 for the month versus 8,000 in August. The amount is the highest since sales of 16,000 in June.

2014 America the Beautiful Five Ounce Silver Bullion Coins added 9,800 in September after rising 9,200 in August.

American Platinum Eagle coins surged 2,700 in September following an increase of 700 in August. Sales were supported this month by the Mint's announcement of an Oct. 1 deadline to buy them.
Below is a sales breakdown of U.S. Mint bullion products with columns listing the number of bullion coins sold on Tuesday, last week, this week so far, last month, in September, and the year to date.
American Eagle and Buffalo Bullion Sales (# of coins)
Tuesday Sales
Last Week
Current Week
August Sales
September Sales
YTD Sales
$100 American Platinum Eagle Bullion Coins
100
200
2,100
700
2,700
16,300
$50 American Eagle Bullion Gold Coins
2,000
10,000
6,000
21,000
50,500
296,000
$25 American Eagle Bullion Gold Coins
0
0
0
0
5,000
32,000
$10 American Eagle Bullion Gold Coins
0
4,000
0
6,000
8,000
92,000
$5 American Eagle Bullion Gold Coins
5,000
10,000
5,000
25,000
30,000
440,000
$50 American Buffalo Bullion Gold Coins
500
5,000
1,500
8,000
14,500
139,500
$1 American Eagle Silver Bullion Coins
765,000
1,290,000
1,090,000
2,007,500
4,140,000
32,251,000
Great Smoky Mountains National Park 5 Oz Silver Bullion Coins
1,500
0
1,500
0
3,500
33,000
Shenandoah National Park 5 Oz Silver Bullion Coins
0
500
0
500
1,000
21,500
Arches National Park 5 Oz Silver Bullion Coins
0
300
0
1,200
800
22,000
Great Sand Dunes 5 Oz Silver Bullion Coins
300
1,200
300
7,500
4,500
12,000