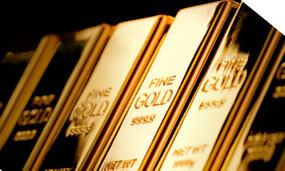 Precious metals futures declined on Monday, paring their quarterly gains and deepening their losses in September — except for palladium which maintained its monthly increase and fell just a tad off from a record. Gold ended the day at an almost two-month low.
Gold for December delivery dropped $33.50, or 2.2%, to close at $1,472.90 an ounce on the Comex division of the New York Mercantile Exchange. The settlement was the lowest since Aug. 2.
"A strong U.S. dollar index that hit a new high for the year on Monday is credited with putting much of the downside pressure on the precious metals today. Better risk appetite in the market place early this week is also bearish for the safe-haven metals," Jim Wyckoff, a senior analyst at Kitco Metals Inc., said in a daily research note.
Gold futures traded 3.7% lower in September after having soared a combined 19% in consecutive monthly gains from May to August. Earlier in the month, on Sept. 4, gold finished at $1,560.40 an ounce for its highest settlement since April 11, 2013. The yellow metal still gained 4.2% in the third quarter and is 15% higher on the year.
Meanwhile, silver for December delivery sank 65.4 cents, or 3.7%, to settle at $16.998 an ounce. The settlement was the lowest since Aug. 13.
Silver futures tumbled 7.3% in September yet logged a quarterly increase of 10.8%. Silver's strongest finish for the month happened Sept. 4 at $19.547 an ounce, which was its highest close since Sept. 26, 2016. Silver futures are 9.4% higher on the year to date.
In PGM futures on Monday, in September, and for the third quarter:
January platinum plunged $46.90, or 5%, to $889.20 an ounce, down 4.6% for the month yet 5.7% higher for the quarter.

Palladium for December delivery shed $5.40, or 0.3%, to $1,647.50 an ounce but logged gains of 7% in September and 7.2% in the third quarter. On Friday, the metal registered a record settlement at $1,652.90 an ounce.
The pair is higher on the year so far with gains of 11.1% for platinum and 37.6% for palladium.
London Precious Metals Prices
London precious metals prices mostly declined on Monday and for the month but rose for the quarter. In comparing their latest day-over-day PM prices:
Gold fell $4.60, or 0.3%, to $1,485.30 an ounce.
Silver declined 26.5 cents, or 1.5%, to $17.255 an ounce.
Platinum fell $25, or 2.7%, to $900 an ounce.
Palladium rose $4, or 0.2%, to $1,674 an ounce.
In LBMA monthly results,  prices declined 2.8% for gold, 6.1% for silver, and 4.2% for platinum. They jumped 8.6% for palladium.
In LBMA quarterly results, prices advanced 5.4% for gold, 13.4% for silver, 10% for platinum, and 9.8% for palladium.
US Mint 2019 Bullion Sales
United States Mint bullion products posted split results in September from August with gold sales lower and silver sales higher. In headline comparisons:
American Eagle gold coins combined to 5,500 ounces in September, marking declines of 8.3% from the 6,000 ounces sold in August and 73.2% from the 20,500 ounces sold in September of last year. 2019 American Gold Eagle sales at 126,500 ounces are 36% lower than the 197,500 ounces delivered during the first nine months of 2018.

American Eagle silver coins moved up by 1,021,000 ounces, rising 1.4% from August's 1,007,000 ounces but dropping 64.8% from September 2018 sales of 2,897,500 ounces. 2019 American Silver Eagle sales at 13,290,000 ounces are 9.5% higher than the 12,135,000 ounces sold through the same period last year.

American Buffalo gold coins rose by 1,000 ounces, registering declines of 33.3% from the 1,500 ounces sold in August and 90.9% from sales of 11,000 ounces in September 2018. Year-to-date sales at 50,500 ounces are 53.2% lower than the 108,000 ounces sold during the first nine months of 2018.

The final allotment of 2019 American Platinum Eagles sold in April with their total for the year ending at 40,000 coins. Last year's edition topped out at 30,000 coins.

America the Beautiful Five Ounce Silver Bullion Coins climbed by a combined 113,500 units after rising by 14,500 units in August. On Monday, the Mint released the latest five-ounce issue which honors San Antonio Missions National Historical Park in San Antonio. It accounted for the vast majority of sales in September. Four of the five 2019-dated coins have now been issued and they have combined sales of 343,000 units or 1,715,000 ounces. Last year's first four five-ounce bullion coins registered combined sales through September of 142,500 units or 712,500 ounces.
Below is a sales breakdown of U.S. Mint bullion products with columns listing the number of coins sold during varying periods. Products with an asterisk (*) are no longer available.
US Mint Bullion Sales (# of coins)
Monday
Last Week
August
September
2019 Sales
$50 American Eagle 1 Oz Gold Coin
0
500
5,500
3,500
90,000
$25 American Eagle 1/2 Oz Gold Coin
0
0
1,000
1,000
24,000
$10 American Eagle 1/4 Oz Gold Coin
0
0
0
2,000
30,000
$5 American Eagle 1/10 Oz Gold Coin
0
5,000
0
10,000
170,000
$50 American Buffalo 1 Oz Gold Coin
0
0
1,500
1,000
50,500
$1 American Eagle 1 Oz Silver Coin
285,000
50,000
1,007,000
1,021,000
13,290,000
San Antonio Missions 5 Oz Silver Coin
111,000
N/A
N/A
111,000
111,000
War in the Pacific 5 Oz Silver Coin
0
0
12,500
2,500
72,000
American Memorial Park 5 Oz Silver Coin*
0
0
2,000
0
80,000
Lowell 5 Oz Silver Coin*
N/A
80,000
$100 American Eagle 1 Oz Platinum Coin*
N/A
40,000