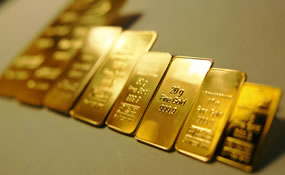 Gold futures on Friday declined for the eleventh time in twelve sessions, closing near a 5-1/2-year low and registering their fifth straight weekly loss.
Gold for August delivery shed $8.60, or 0.8%, to settle at $1,085.50 an ounce on the Comex division of the New York Mercantile Exchange. The close marks the lowest price since Feb. 10, 2010 when gold ended at $1,076.30 an ounce.
"The mood is very poor," Bloomberg News quoted Grant Sporre, an analyst at Deutsche Bank AG. "The feeling is that the metals are pricing in rate cuts in the U.S., but I expect that we'll still see a further leg down when the event actually occurs."
Gold prices plunged 4.1% on the week after dropping 2.3% last week, and they are down 8.3% since their final settlement in 2014 at $1,184.10 an ounce.
"Rising nominal rates and disinflation have created the most bearish cocktail for gold in the past 43 years," Bank of America said in a note according to Reuters. "As such, we reiterate our view that gold prices are unlikely to rally into a Fed tightening cycle and now believe gold could dip below $1,000 an ounce by 2016."
Looking ahead to next week, Kitco News offers the following forecasts via their Wall Street vs. Main Street survey:
"This week, Kitco News saw the highest participation in its online weekly gold survey since it launched in April, with 555 participants. According to the results, 416 participants, or 75%, are bearish on gold next week. At the same time, 99 people, or 18%, are bullish. Seven voters, or 40%, are neutral on the yellow metal.

Kitco's market professional survey was a lot closer, hitting a statistical tie once again, with a slight edge going to the bearish camp. Out of 34 market experts contacted, 20 responded, of which eight, or 40%, said they expect to see higher prices next week. At the same time, nine professionals, or 45%, said they see lower prices, and three people, or 15%, are neutral on gold."
Elsewhere in precious metals dealings, silver futures registered their ninth loss in ten sessions. Silver for September delivery fell 21 cents, or 1.5%, to settle at $14.49 an ounce. Silver prices slipped 2.3% on the week after sinking 4.2% last week, and they are off 7.1% on the year.
In PGM futures on Friday and for the week:
October platinum dipped 40 cents to $980.70 an ounce, sliding 2.1% from a week ago.

Palladium for September added $4.75, or 0.8%, to $622.60 an ounce, gaining 0.6% on the week.
The two metals on the year so far have logged respective losses of 18.9% and 22.2%.
London Precious Metals Prices
London precious metals prices also declined on Friday. In comparing London bullion prices from Thursday PM to Friday PM:
Gold fell $16.60, or 1.5%, to $1,080.80 an ounce.
Silver tumbled 39 cents, or 2.6%, to $14.49 an ounce.
Platinum shed $8, or 0.8%, to $979 an ounce, and
Palladium declined $15, or 2.4%, to $616 an ounce.
For the week, prices logged declines of 4.6% for gold, 3.5% for silver, 1.9% for platinum and 0.8% for palladium.
US Mint Bullion Coin Sales in July
Demand swirled for United States Mint gold coins. Weekly sales jumped by 54,500 ounces after last week's 40,500 ounces. Sales splits include 42,000 ounces in American Gold Eagles compared to 35,500 ounces previously and 12,500 ounces in American Gold Buffalos versus 5,000 ounces previously.
Gold Eagle sales in July are at 143,000 ounces, already the highest total in a month than any since sales of 209,500 ounces in April 2013. Gold Buffalo sales in July are at 25,500 ounces, the most since the January tally of 34,500 ounces.
Silver sales remained stunted without American Silver Eagles in the picture. The U.S. Mint sold out its supply of the silver coins on July 7. Their sales will resume on Monday.
Below is a listing of U.S. Mint bullion products that shows the number of coins sold during varying periods. Products with an asterisk (*) are no longer available. Those with a double asterisk (**) are temporarily unavailable.
US Mint Bullion Sales (# of coins)
Friday Sales
Last Week
This Week
June Sales
July Sales
YTD Sales
$50 American Eagle 1 Oz Gold Coins
13,500
29,000
37,500
62,500
122,500
321,000
$25 American Eagle 1/2 Oz Gold Coins
1,000
2,000
3,000
4,000
7,000
43,000
$10 American Eagle 1/4 Oz Gold Coins
2,000
6,000
4,000
12,000
22,000
92,000
$5 American Eagle 1/10 Oz Gold Coins
20,000
40,000
20,000
85,000
115,000
505,000
$50 American Buffalo 1 Oz Gold Coins
7,000
5,000
12,500
21,000
25,500
122,000
$1 American Eagle 1 Oz Silver Coins**
0
0
0
4,840,000
2,709,000
24,495,000
2015 Homestead 5 Oz Silver Coins*
–
35,000
2015 Kisatchie 5 Oz Silver Coins*
–
42,000
2015 Blue Ridge Parkway 5 Oz Silver Coins
0
7,600
0
35,000
7,600
42,600