In the world of making coins, artists craft designs and engineers bring them to life on faces of steel. Today, the engineering techniques at the United States Mint are an art form in their own right. We've seen them ourselves in a recent trip to the U.S. Mint at West Point and in past visits to Mint facilities in Philadelphia, San Francisco and Denver.
Specialists at the West Point Mint have set their sights on dies for 2014-W Proof Platinum Eagles, investing their time and unique resources in a series of experiments to develop multiple finishes that will accentuate the artist's design and bring out more of the coin details.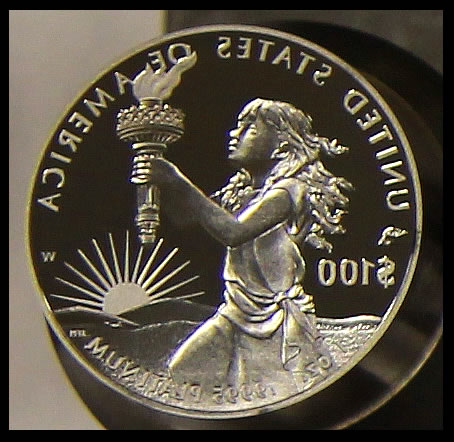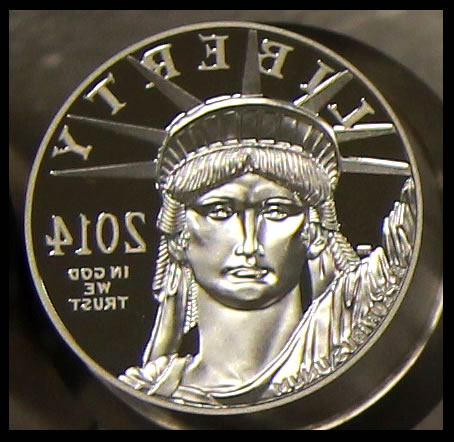 Dies are pieces of steel that bear negative designs of the coins to be produced. Placed in high-tonnage presses, they stamp their designs on a metal disc (planchet) and a coin is created. The U.S. Mint in Philadelphia manufactures all unfinished dies. Other facilities, like West Point, get them to polish, enhance and treat for the coins they strike. Learn how the Philadelphia Mint makes dies.
Executing varying levels of polishing and laser intensities on dies results in coins of more than one finish. Standard proof coins with their frosted devices and mirror-like fields have been around for decades. We know this finish well.
More recently, and with notable success that is best exemplified by last year's 2013-W Enhanced American Eagle Silver Uncirculated Coin, the U.S. Mint has been experimenting with new polishing and laser frosting techniques that yield many more finishes.
Collector versions of American Platinum Eagles make good candidates for multiple finishes. Reverses (tails side) change annually, and beginning in 2009 they have featured themes commemorating the core concepts of American ideals highlighted in the Preamble of the U.S. Constitution. On last year's 2013-W Proof Platinum Eagle and for the first time, the Mint adopted a "light frosting technique" to highlight details of the design.
This year's coin, the sixth and final of the Preamble series, features the theme "To Secure the Blessings of Liberty to Ourselves and Our Posterity." Selected from among 12 candidates, the design shows a "Young Liberty" carrying a torch of freedom high. Symbolizing a bright future, a rising sun over a gentle landscape appears in the background. The design looks to offer several enhancement opportunities, and the West Point Mint is experimenting with varied polishing and laser treatments for it.
The U.S. Mint has yet to officially announce the proof Platinum Eagle's design or its release date, and we haven't heard more about how the experiments are going or went. So for now, we'll present a few photos that highlight how West Point's die department works their magic.
Photos of the Die Finishing at West Point Mint
Here, Dennis Flaherty, Die Finishing Specialist, shows laser tape that was created in-house to protect artwork for the die finishing process of 2014-W Proof Platinum Eagles.
In the upcoming photo, the tape is shown adhered to the die and protecting the design, making it easier to polish the field. A rotary tool is used for that. An article about our trip to the Philadelphia Mint covers these polishing methods in detail.
Next, here is one of the West Point Mint's automated polishing machines. It's fitted with a brush pad. When the machine runs, the brushes make contact with surfaces of dies until the desire polishing results are achieved. Dies are then transferred to another machine with a felt pad to produce finer results.
These next three photos show the workings of the FOBA® Laser Marking & Engraving machine. The software-controlled laser hits dies at varying intensities to apply laser-frosting treatments. On this occasion, it was treating dies for 2014-W Reverse Proof Kennedy Half-Dollars — one of the four silver coins to launch this fall in the 2014 50th Anniversary Kennedy Half-Dollar Silver Coin Collection.
Finished dies are then cleaned ultrasonically with the washer shown below.
Finally, dies are chrome-hardened by a Physical Vapor Deposition (PVD) Chamber in a clean room. This last photo shows Michael Gadwah, Die Finishing Specialist, as he programs the computer to start a PVD ceramic coating cycle.
Chrome coating extends the life of the die, hardening it to take more pounding inside coining presses. Our articles last year about the San Francisco Mint have additional information and photos of another PVD Chamber and its internal components.
That's it for this article. Thanks for stopping by. Check back next week for another piece about the West Point Mint.