What is a coin die? In the world of Play-Doh, dies would be the plastic shapes kids use to mold their imaginary toys. In the real world at the U.S. Mint at San Francisco, dies create more than 20 million proof coins a year to generate tens of millions of dollars in revenue.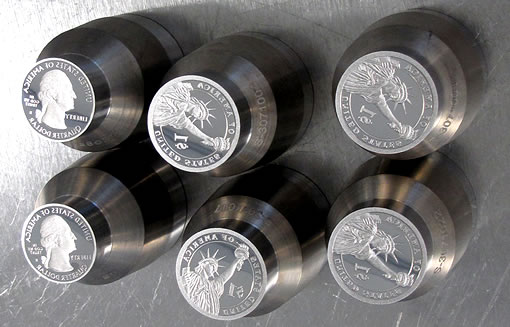 Before we jump into the photo presentation about how the San Francisco Mint prepares coin dies for minting, perhaps a slightly more technical description for them is in order…
A coin die is a formed piece of metal engraved with the negative of either the obverse (heads) or reverse (tails) side of a coin's design. These front and back dies are forced together in a coining press, like a hammer is to an anvil, and impart their designs onto a blank to form a coin.
Coin dies date back to ancient times. Obviously made by hand then, today automated techniques can add varying finishes, degrees of polishing and even unique laser frosting intensities.
Not a complete dolt to the modern coin production process, I expected and did snap a few photos of computer-guided lasers during my private tour of the U.S. Mint at San Francisco. But I didn't expect to see a clean room and a "Physical Vapor Deposition Chamber." Stick around for that. The clean room, PVD Chamber and the purpose they serve is described toward the tail end of this article.
Once again, I'd like to thank the fine SF Mint crew who were exceedingly gracious, insightful and patient with me as I toured their facility. Now, let's get to the core of this fourth article in a series of several about the U.S. Mint at San Francisco.
Preparing Coin Dies
Here is the photo walkthrough on how the Mint prepares its dies for coin production.
Polishing Coin Dies in the U.S. Mint at San Francisco
In the last article about the SF Mint, a reader asked whether it was noisy there. Not really, though ear plugs are worn in blank treatment, coin press and packaging rooms as an added safety precaution. Ear plugs were not used but safety glasses were in the die preparation room.
Automation hasn't completely taken over the coin production process. This table shows several proof coin dies and the main tools U.S. Mint employees use to manually polish them. As the SF Mint strikes coins for collectors, these dies receive extra attention.
Below, SF Mint employee Yin Lau is polishing one of the dies that will be used in minting the obverse of a proof America the Beautiful Quarter. The above photo shows syringes filled with varying grades of pasty diamond dust. This mixture combined with rotary tools aid in the die polishing process.
One more angle of Mr. Lau at work. By hand, it can take up to one hour to polish a proof die.
Laser Engraving in the U.S. Mint at San Francisco
Up next is frosting. For several years now, proof dies at the SF Mint have received a laser-applied frosting treatment. This is one of the laser engraving machines that burns frost on dies to transfer that cameo effect onto proof coins.
In this photo, SF Mint employee Monte Bolmer prepares the computer-guided laser to apply frosting to a proof die that will be used to strike 2013 Theodore Roosevelt Presidential $1 Coins.
Here is a closer view of the laser in action as it automatically frosts a Roosevelt $1 die. Note how the laser hits only the portrait area.
Physical Vapor Deposition Chamber in the U.S. Mint at San Francisco
The next step for coin dies is passing through the Physical Vapor Deposition (PVD) chamber inside a clean room.
"Physical vapor deposition (PVD) is a variety of vacuum deposition methods used to deposit thin films by the condensation of a vaporized form of the desired film material onto various workpiece surfaces," describes Wikipedia.

"The coating method involves purely physical processes such as high temperature vacuum evaporation with subsequent condensation, or plasma sputter bombardment rather than involving a chemical reaction at the surface to be coated as in chemical vapor deposition."
That description reminds me of why I switched gears out of college and dumped engineering…
In simpler terms, the PVD room is very cool — both as in neat to see and as is in cold in temperature. Coin dies that go through the PVD room come out with a chrome-hardened face and boosted wear resistance. These combine to sharply extend die life.
Applying chrome-plating to dies is not new but the PVD process produces better results and it's environmentally safe. A process known as hexavalent chromium plating was the method of choice in the past. Google that and you quickly learn the advantages of the PVD method.
In these two photos, SF Mint employee Robert Nyein adds coin dies into the PVD Chamber and operates its controls.
| | |
| --- | --- |
| Robert Nyein adds dies to PVD Chamber | Nyein operating PVD Chamber |
This photo shows a close-up of the inside area of the Physical Vapor Deposition Chamber.
Finally, here are Presidential $1 Coin and America the Beautiful Quarter dies placed inside of the PVD chamber to receive the chroming treatment.
Having passed through all the necessary stages, the coin dies move to the press room for use in striking coins.
Upcoming Article About the U.S. Mint at San Francisco
Please return Wednesday, April 17, for the next article in a several part series that describes my visit to the U.S. Mint at San Francisco. We'll visit the Coining Press Room to see how the Mint strikes proof coins and bullion American Silver Eagles. This article has the largest selection of photos to walk you through the pressing process.
Article Series About U.S. Mint at San Francisco