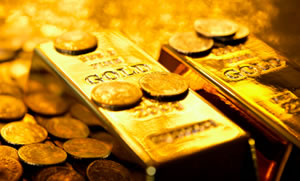 Gold prices declined ahead of the extended July 4 holiday weekend, closing lower for the first time in five sessions and dropping enough to pull prices down 0.1% on the week.
Gold for August delivery fell $10.30, or 0.8%, to settle at $1,320.60 an ounce on the Comex division of the New York Mercantile Exchange. Losses on Thursday were attributed to better than expected U.S. jobs numbers that, along with the holiday-shortened trading session and week, trimmed investors' buying interests.
"The job numbers are telling us that the economy is healthy, and people don't need a lot of safe haven going forward," Alfonso Esparza, a senior currency analyst in Toronto at Oanda Corp., said in a telephone interview according to Bloomberg News. "Gold will probably now start weakening again."
The U.S. economy added 288,000 jobs last month and the unemployment rate fell to 6.1%, its lowest level since September 2008, the Labor Department reported Thursday.
"Short-term investors are likely to delay their gold and silver investments for now after looking at U.S. June employment numbers," MarketWatch quoted Chintan Karnani, chief market analyst at Insignia Consultants, based in New Delhi. "However, geopolitical risk can prevent a severe crash in bullion prices."
On Monday, gold logged a 3% quarterly gain and ended June 6.1% higher. On Wednesday, the precious metal notched a 14-week high. Gold prices have rallied $118.30, or 9.8%, since ending 2013 at $1,202.30 an ounce.
Gold Outlook
Participants in the latest Kitco News survey have mixed views for gold prices next week. Seven expect prices to rise, 8 see prices lower and 3 see prices trading sideways or are neutral. Kitco News reports that:
"Those who see higher prices next week said they liked that gold held support above $1,305, even though the metal set its weekly low Thursday… Those who see lower prices said the economic news is becoming bearish for the metal… Those who see prices moving sideways or are neutral said they expect gold to consolidate after recent price swings."
Kitco News gold survey results last week were bullish for a third consecutive week with expectation splits of 25 up, 9 down and 3 sideways or are neutral.
Silver, Platinum and Palladium Futures
Silver declined following two days of gains with September futures off 17 cents, or 0.8%, to settle at $21.14 an ounce. Silver prices climbed 0.4% higher than last week and have surged 9.1% on the year.
PGMs were mixed. In the daily and weekly breakdowns:
October platinum lost $3.80, or 0.3%, to close at $1,507.70 an ounce but traded 1.7% higher on the week.

Palladium for September gained $4.50, or 0.5%, to settle at $861.90 an ounce and advanced 2.2% on the week.
For the year to date, platinum has jumped 9.7% and palladium has soared 20%.
London Fix Precious Metals
Earlier fixed London precious metals were mostly lower. When comparing the London bullion fix prices from Wednesday PM to Thursday PM:
Gold fell $9, or 0.7%, to $1,317.50 an ounce,
Silver dipped 4 cents, or 0.2%, to $21 an ounce,
Platinum dropped $9, or 0.6%, to $1,502 an ounce, and
Palladium was unchanged at $855 an ounce
On the week, gold and silver rose modestly at 0.2% and 0.6% while platinum and palladium registered stronger gains at 1.5% and 1.3%.
US Mint Bullion Sales in July
Sales of United States Mint bullion coins were slower in the shortened week. In the latest week-over-week comparisons across all U.S. Mint bullion products:
Gold coin sales gained 11,000 ounces after advancing 16,500 ounces last week. Splits were 9,500 ounces in American Gold Eagles compared to 13,500 ounces previously and 1,500 ounces in American Gold Buffalos after 3,000 ounces previously. Gold sales jumped to a five-month high in June.

American Silver Eagles added 395,000 following the past six smaller-than-typical weekly gains of 447,000; 580,000; 675,000; 670,000; 300,000; and 426,500. Orders this week did top the year-to-date milestone of 24 million to hold at 24,203,500. Last year when the annual American Silver Eagle sales record was set at above 42.6 million, the coins hit 25,869,500 by July 3, 2013. Until a few weeks ago, sales this year were moving faster than last.

America the Beautiful Five Ounce Silver Bullion Coins were flat after rising last week by 4,400, or 22,000 ounces.

Sales of American Platinum Eagles were flat for a third straight week. The coins are now in their 16th full week of release after a five-year hiatus.
Below is a sales breakdown of U.S. Mint bullion products with columns listing the number of bullion coins sold on Thursday, last week, this week, last month, the month to date, and the year to date.
American Eagle and Buffalo Bullion Sales (# of coins)
Thursday Sales
Sales Last Week Sales
Weekly Sales
June Sales
July Sales
YTD Sales
$100 American Platinum Eagle Bullion Coins
0
0
0
700
0
12,900
$50 American Eagle Bullion Gold Coins
4,500
12,000
7,500
43,000
5,500
204,000
$25 American Eagle Bullion Gold Coins
0
0
2,000
2,000
0
27,000
$10 American Eagle Bullion Gold Coins
0
2,000
0
4,000
0
72,000
$5 American Eagle Bullion Gold Coins
5,000
10,000
10,000
35,000
5,000
365,000
$50 American Buffalo Bullion Gold Coins
0
3,000
1,500
16,000
500
112,000
$1 American Eagle Silver Bullion Coins
75,000
447,000
395,000
2,692,000
75,000
24,203,500
Great Smoky Mountains National Park 5 Oz Silver Bullion Coins
0
1,000
0
2,000
0
29,000
Shenandoah National Park 5 Oz Silver Bullion Coins
0
400
0
900
0
20,000
Arches National Park 5 Oz Silver Bullion Coins
0
3,000
-800*
18,500
0
18,500
*On Monday, the U.S Mint reduced sales of Arches silver coins.