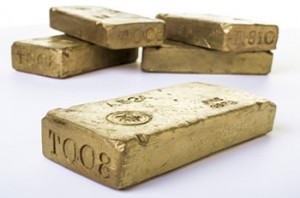 Gold was poised for a modestly weekly gain with three straight session increases until Friday when prices retreated as risk appetite picked up and physical demand pulled back. United States Mint weekly bullion sales tumbled compared to a week ago when demand soared to multi-month highs.
Gold for December delivery declined $9.50, or 0.7%, to settle at $1,306.20 an ounce on the Comex division of the New York Mercantile Exchange. Gold prices edged down 0.4% on the week.
"Since demand for jewelry, bars and coins has proved very weak of late, overall demand for gold is again more dependent on investors. However, investment demand is probably not sufficient to make up completely for weak physical demand in Asia at present, especially since coin sales in the West are likewise modest," MarketWatch quoted strategists at Commerzbank in Frankfurt.
Friday's move was the biggest of the week. Prior-day changes included gains on Thursday, Wednesday and Tuesday of $1.20; $3.90; and 10 cents. Prices dipped 50 cents on Monday. For the week, gold edged down 0.4%.
Gold Outlook and YTD
Participants in the latest Kitco News survey are split about gold prices next week. Eight expect prices to rise, 8 see prices lower, and 4 see prices trading sideways or are neutral. Kitco News reports that:
"Respondents who see higher prices said they still expect gold to find support from geopolitical concerns… Yet those who see weaker prices said it is the easing of political tensions and improving U.S. economic data that could weigh on values next week…A few participants who are neutral said they expect gold to hold in its range of about $1,280 to $1,320 this week…"
Kitco gold survey results last week were bullish with expectation splits of 18 up, 6 down, and 3 sideways or neutral.
Gold prices have advanced $103.90, or 8.6%, since ending 2013 at $1,202.30 an ounce.
Silver, Platinum and Palladium Futures
Silver ended lower for the fourth time in five sessions. Silver for September delivery shed 38 cents, or 1.9%, to close at $19.53 an ounce. The loss on Friday was also the biggest of the week, with prices advancing 6 cents on Thursday and falling in the three prior sessions by 6 cents, 19 cents and 15 cents. Silver tumbled 2.1% from a week ago, trimming its year-to-date gain to 16 cents, or 0.8%.
In rounding out the precious metals complex on Friday and for the week:
October platinum lost $12, or 0.8%, to $1,457.20 an ounce, and fell 1.4% from a week ago.

Palladium for September delivery advanced $8.35, or 0.9%, to $894.50 an ounce, improving 4% on the week.
For the year so far, platinum has gained 6.1% and palladium is up by 24.5%.
London Fix Precious Metals
Earlier fixed London precious metals fell on Friday and the LBMA silver price debut was $19.86 an ounce. When contrasting London bullion fixings from Thursday PM to Friday PM:
Gold plunged $17.50, or 1.3%, to $1,296 an ounce,
Platinum declined $22, or 1.5%, to $1,446 an ounce, and
Palladium lost $4, or 0.5%, to $878 an ounce
London precious metals fixings were mixed on the week with gold down 1.1% and platinum off 2% while palladium jumped 2.5%. When comparing the new LBMA silver price to last week's final silver fixing, there is a 1.3% decline.
US Mint Bullion Sales in August
U.S. Mint bullion demand weakened following a strong prior week in which silver coin sales were the highest since the week ended May 9 and gold coin sales were the highest since the week ended June 27. In the latest week-over-week comparisons:
Gold coin sales rose 4,000 ounces after surging 16,000 ounces last week — the highest total in six weeks. Splits were 3,500 ounces in American Gold Eagles compared to 12,000 ounces previously, and 500 ounces in American Gold Buffalos compared to 4,000 ounces previously.

American Silver Eagles rose by 225,000 after soaring 955,000 in the previous week — the most in three months.

America the Beautiful Five Ounce Silver Bullion Coins were flat for a third straight week.

Sales of American Platinum Eagles advanced 400. The gain marked the first since the week ended June 13. The coins are now in their 20th full week of release after a five-year hiatus.
Below is a sales breakdown of U.S. Mint bullion products with columns listing the number of bullion coins sold on Friday, last week, this week, last month, the month so far, and the year to date.
American Eagle and Buffalo Bullion Sales (# of coins)
Friday Sales
Sales Last Week
Current Sales Week
July Sales
August Sales
YTD Sales
$100 American Platinum Eagle Bullion Coins
0
0
400
0
400
13,300
$50 American Eagle Bullion Gold Coins
1,500
10,000
3,000
26,000
13,000
237,500
$25 American Eagle Bullion Gold Coins
0
0
0
0
0
27,000
$10 American Eagle Bullion Gold Coins
0
2,000
0
6,000
2,000
80,000
$5 American Eagle Bullion Gold Coins
0
15,000
5,000
25,000
20,000
405,000
$50 American Buffalo Bullion Gold Coins
0
4,000
500
5,500
4,500
121,500
$1 American Eagle Silver Bullion Coins
0
955,000
225,000
1,975,000
1,180,000
27,283,500
Great Smoky Mountains National Park 5 Oz Silver Bullion Coins
0
0
0
500
0
29,500
Shenandoah National Park 5 Oz Silver Bullion Coins
0
0
0
0
0
20,000
Arches National Park 5 Oz Silver Bullion Coins
0
0
0
1,500
0
20,000