Designs for the Shimon Peres Congressional Gold Medal were reviewed and recommended during a short teleconference meeting of the Citizens Coinage Advisory Committee (CCAC) on June 2, 2014.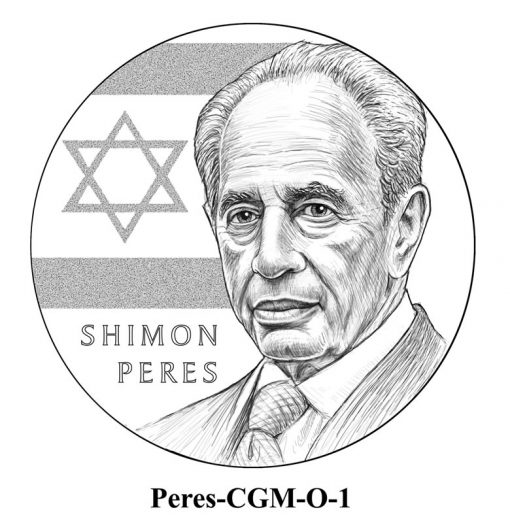 Peres, 90, is the ninth and current President of Israel, and is due to step down in July as his term comes to an end.
Medal designs were crafted by the U.S. Mint in anticipation of President Obama signing into law H.R.2939, which will award Shimon Peres with the Congressional Gold Medal for his years of service and his pivotal role in maintaining strong bilateral relations between Israel and the United States.
The single design candidate for the medal obverse, Peres-CGM-O-1, offers a profile of Shimon Peres in a suit against an Israel flag. The U.S. Mint's liaison and advisor to Peres recommended thinning the flag's stripes so they are better proportioned to the Star of David.
Two candidate designs were drawn up for the reverse, Peres-CGM-R-1 and Peres-CGM-R-2. Each offers the same depiction of a dove in flight with an olive branch in its beak. Variations between the two include the inscriptions and their placements. The second reverse offers the words: DREAM OF A FUTURE PEACE RATHER THAN REMEMBER WARS PAST. The first design, which was recommended by the liaison and the CCAC, has inscriptions of YOU ARE AS GREAT AS THE CAUSE YOU SERVE.
Both designs have a series of X's, but in different positions. The X's are placeholders for 'ACT OF CONGRESS 2014'. In a possible tweak to the reverse, CCAC member Jeanne Stevens-Sollman suggested a perspective change in the positioning of the dove's bottom tail feathers.
These designs will also get reviewed by the Commission of Fine Arts (CFA).
About the Medal and HR2939
Peres received the Presidential Medal of Freedom in June 2012. It and the Congressional Gold Medal are the two highest U.S. civilian honors, and Peres will be just the tenth person in history to win both.
Introduced on Aug. 1, 2013 by Rep. Joseph Kennedy, H.R.2939 passed in the House on May 19, was approved in the Senate on May 20, and was presented to the President on May 30. On Monday, June 9, President Obama signed H.R.2939 into law. As one of his few remaining official duties, Peres is scheduled to meet with President Obama at the White House on June 25.
As is typical with legislation related to Congressional Gold Medals, H.R.2939 includes a provision for the U.S. Mint to strike bronze duplicates of the Perez medal for sale to the public.