The Congressional Gold Medal was presented this week to Israeli President Shimon Peres. He accepted the award at a special ceremony held Thursday, June 26, 2014 in the U.S. Capitol Rotunda.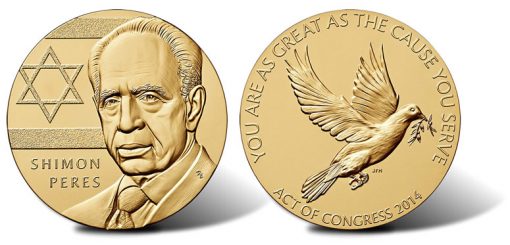 Coinciding with the event, the United States Mint began selling 3-inch bronze replicas of the medal to the public for $39.95 each. Reproductions in the 1.5-inch size will also be available at a later date for $6.95. The U.S. Mint presented candidate designs of the gold medal earlier this month.
"Shimon Peres was born in Poland in 1923 and went on to serve in numerous high-level cabinet positions and ministerial posts in Israel, including head of the Israeli Navy, Minister of Defense, Foreign Minister, Prime Minister, and President," describes the United States Mint in a news release. "He has honorably served Israel for more than 70 years, during which he has significantly contributed to United States interests and has played a pivotal role in forging the strong and unbreakable bond between the two countries."
Shimon Peres was elected President of the State of Israel in 2007 and is due to step down in July. The Congressional Gold Medal for Peres, authorized by Public Law No: 113-114, was awarded for his years of service and his pivotal role in maintaining strong bilateral relations between Israel and the United States. It marks the first time in history that the medal has been given to a sitting President of Israel.
"Many people call me a dreamer," said Shimon Peres in regards to receiving the Congressional Gold Medal. "I suppose that's why I have always felt at home in the United States of America — America that was given the privilege to carry the dreams of humanity."
The Presidential Medal of Freedom was also given to Peres in June 2012. He is only the tenth person in history to win both the Presidential Medal of Freedom and the Congressional Gold Medal.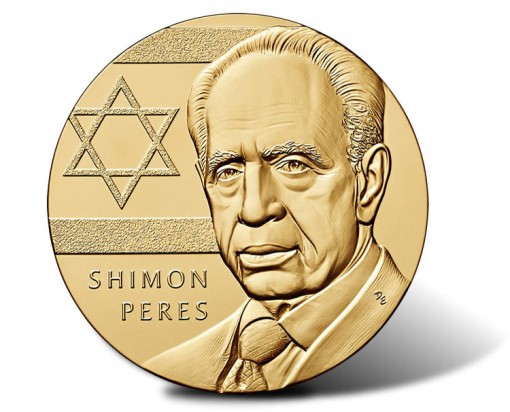 A portrait of Peres in a suit against an Israel flag appears on the obverse or heads side of the medal, as designed by United States Mint Sculptor-Engraver Don Everhart. Also visible is the inscription of SHIMON PERES.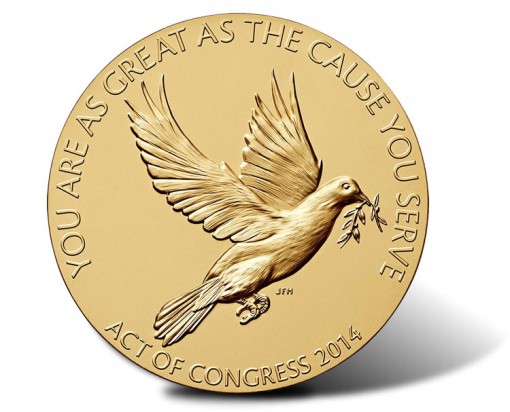 Reverses depict a dove in flight with an olive branch, symbolizing peace. Inscriptions above and below read: "YOU ARE AS GREAT AS THE CAUSE YOU SERVE," and "ACT OF CONGRESS 2014." The design was created by United States Mint Sculptor-Engraver Joseph Menna.
Bronze replicas of the Shimon Peres Congressional Gold Medal may be purchased directly from the United States Mint via its online catalog located here, or by calling 1-800-USA-MINT (872-6468).