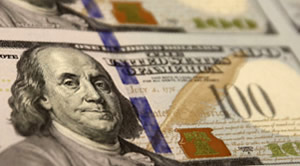 More banknotes were printed in November than a month earlier, according to data released Tuesday, Dec. 17, by the Bureau of Engraving and Printing (BEP).
Before diving into the production figures, the BEP on Tuesday also announced that Treasurer of the United States Rosie Rios will be available Friday, Dec. 20, to sign currency and coin products.
Treasurer Rios, whose signature appears on U.S. money, will sign products at the BEP Visitor Center in Washington, DC from 10:00 a.m. to 12:00 p.m. Collectors can buy both currency and United States Mint coins at the center and have up to two of them signed, including newly released $100 notes. The BEP facility in Washington, DC is located at 14th & C Streets, SW.
Returning to banknote production figures, the bureau in November printed 541.94 million in $1s, $2s, $10s, $20s and $100s for a total value of more than $15.8 billion. Compared to October, that is up 22.6% in the number banknotes and it marks a 268.2% increase in combined value. Still, the total value remained on the low side for a 2013 month as smaller denominated bills accounted for a big part of the output.
Here are reports from the BEP showing the type of banknotes manufactured during the month:
November 2013 BEP Money Production
Facility at Washington, DC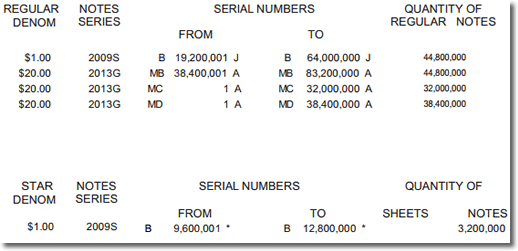 Facility at Fort Worth, TX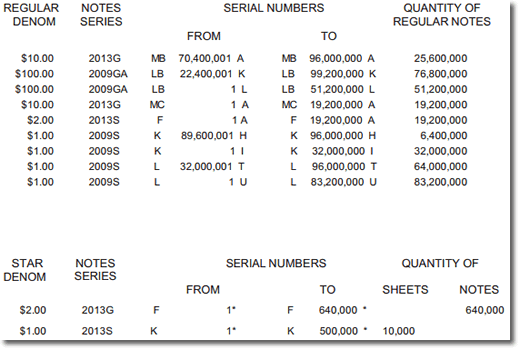 Last month the BEP produced star notes in denominations of $1s and $2s. These are referenced by the "*" designator in the above money production charts. Star notes are replacements for misprinted notes or certain serial numbers, like 000 000 000. Money collectors find them more desirable since they are harder to find.
The following table lists the type, the amount and the total value of notes printed by the BEP in November:
Banknotes by Denomination: Total Printed and Values
November 2013
| | | |
| --- | --- | --- |
| Banknotes | Total Printed | Total Value ($) |
| $1.00 | 234,100,000 | 234,100,000 |
| $2.00 | 19,840,000 | 39,680,000 |
| $5.00 | 0 | 0 |
| $10.00 | 44,800,000 | 448,000,000 |
| $20.00 | 115,200,000 | 2,304,000,000 |
| $50.00 | 0 | 0 |
| $100.00 | 128,000,000 | 12,800,000,000 |
| Totals | 541,940,000 | 15,825,780,000 |
For comparison, three prior monthly money production tables are below:
October 2013
| | | |
| --- | --- | --- |
| Banknotes | Total Printed | Total Value ($) |
| $1.00 | 192,000,000 | 192,000,000 |
| $5.00 | 19,200,000 | 96,000,000 |
| $10.00 | 96,000,000 | 960,000,000 |
| $20.00 | 128,480,000 | 2,569,600,000 |
| $50.00 | 3,200,000 | 160,000,000 |
| $100.00 | 3,200,000 | 320,000,000 |
| Totals | 442,080,000 | 4,297,600,000 |
September 2013
| | | |
| --- | --- | --- |
| Banknotes | Total Printed | Total Value ($) |
| $1.00 | 332,800,000 | 332,800,000 |
| $5.00 | 169,600,000 | 848,000,000 |
| $10.00 | 2,176,000 | 21,760,000 |
| $20.00 | 6,400,000 | 128,000,000 |
| $50.00 | 57,600,000 | 2,880,000,000 |
| $100.00 | 615,040,000 | 61,504,000,000 |
| Totals | 1,183,616,000 | 65,714,560,000 |
August 2013
| | | |
| --- | --- | --- |
| Banknotes | Total Printed | Total Value ($) |
| $1.00 | 192,000,000 | 192,000,000 |
| $5.00 | 83,200,000 | 416,000,000 |
| $10.00 | 0 | 0 |
| $20.00 | 0 | 0 |
| $50.00 | 0 | 0 |
| $100.00 | 313,920,000 | 31,392,000,000 |
| Totals | 589,120,000 | $32,000,000,000 |