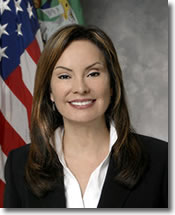 Rosie Rios, the 43rd Treasurer of the United States, resigned from her position effective on Friday, July 8, 2016. She first assumed the office back on August 6, 2009.
As Treasurer, Rios oversaw the Bureau of Engraving and Printing, the United States Mint, and was a key liaison with the Federal Reserve. She was also a senior advisor to the Secretary of the Treasury and strongly promoted the concept of a woman appearing on U.S. currency.
"I am particularly grateful for her creativity and leadership in the effort to redesign our paper currency and to ensure that future notes reflect, for the first time in 120 years, the important role of women in shaping our democracy, Politico quoted Jack Lew, the U.S. Secretary of Treasury. "I thank her for her service and wish her all the best in her future endeavors."
Rosa "Rosie" Gumataotao Rios was nominated to fill the post by President Obama in May 2009. The U.S. Senate unanimously confirmed her appointment in July 2009.
Rios attended Harvard University where she graduated with high honors before moving into real estate finance. She then turned to the public sector, overseeing economic development in different cities including Oakland, California. From there, she became a principal partner at the consulting firm of Red River Associates.
Prior to her appointment, Rios was the managing director of investments for MacFarlane Partners, a real estate management firm based in San Francisco. She worked in Virginia to help solidify the Latino vote during President Obama's first presidential campaign, leading to her placement on the Treasury-Federal Reserve transition team.
As Treasurer, Rios was well known for attending many coin shows. For those asking, Rios would sign her autograph below her facsimile signature on notes.
Federal Reserve notes will change with her departure. A suffix letter is often added to the series issue to acknowledge a treasurer replacement. Notes will also feature a new signature when the 44th Treasurer is appointed.