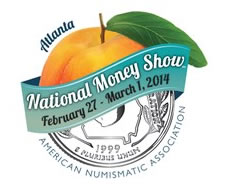 New coin and currency products will get introduced at the ANA National Money Show in Atlanta, the United States Mint and Bureau of Engraving and Printing (BEP) have announced.
Held at the Cobb Galleria Centre, Treasurer of the United States Rosie Rios will take part in the opening ribbon cutting ceremony at 12:45 p.m. on Thursday, Feb. 27. She will also sign currency at a booth, #845, shared by the BEP and U.S. Mint from 1:30 p.m. – 3:30 p.m. The show will end on Saturday, March 1.
As already discussed on CoinNews.net, the BEP will introduce two new products on Thursday, $100 uncut currency sheets and 2014 Army Intaglio Prints. The currency sheets include the newly designed $100s, and are a first time ever product. The Army Intaglio Print is the first of five in the BEP's Defenders of Freedom series. They will be available at the show as well as online beginning Thursday at 8:00 a.m. through www.moneyfactory.gov.
"The BEP is showcasing its Billion Dollar Exhibit, which features more than $1 billion worth of rare antique currency, including sheets of $100,000 currency notes, Treasury Bonds, and Gold and Silver Certificates," a BEP news release noted.

"Additional BEP exhibits include genuine currency face plates representing the Federal Reserve Bank of Atlanta; a Series 1934-B, 12-Subject $10,000 plate; a Series 1934-C, 12-Subject $100 plate; and a mutilated currency exhibit."
The National Money Show in Atlanta features one of the largest bourse floors of the season. There are tons of collector exhibits, rarities in the ANA's Museum Showcase, dealer tables, and other gripping sights to see, as well as educational programs and special events.
New US Mint Products and Coin Forum
Then of course, there are displays from the United States Mint. Coin collectors will want to stop by the BEP/Mint booth to check out new and upcoming U.S. Mint products, like the 2014 National Baseball Hall of Fame Commemorative Coins. There is a lot of buzz surrounding these first ever curved coins in clad, silver and gold.
The U.S. Mint will have these and other products available for sale:
2014 Civil Rights Act of 1964 Silver Dollars in proof and uncirculated qualities
2014 Proof American Silver Eagles
2014 Happy Birthday, Congratulations, and Birth Sets
America the Beautiful Quarters in rolls, sets and bags
Popular annual sets
Finally, U.S. Mint Deputy Associate Director of Sales and Marketing Mary Lhotsky will host a public coin forum Friday, Feb. 28. It will be held at booth #1125 (Hall C) from 11:00 a.m. – 12:00 p.m.
For more information about the ANA National Money Show, visit nationalmoneyshow.com.