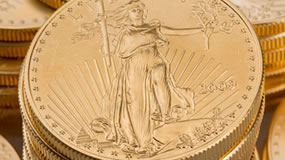 Gold futures fell for a seventh straight session Friday as the U.S. dollar soared to a nearly three-year high. Gold prices have now plunged $109, or 7.4%, since last closing higher on May 8.
On Friday, gold for June delivery declined $22.20, or 1.6%, to settle at $1,364.70 an ounce on the Comex in New York. Pressuring prices this week were outflows of gold ETFs, weaker-than-expected inflation data, a stronger U.S. dollar and investment focus on equities.
"The market is facing headwinds as global equities continue their path higher, taking institutional investment away from the gold market and central-bank stimulus is gradually withdrawn from the U.S. economy," Steve Scacalossi, a New York-based vice president at TD Securities Inc., said in a report cited on Bloomberg. "Gold is going to struggle in this strong-dollar environment."
For the week, gold dropped $71.90, or 5.0%. Prices could continue lower according to some market-watchers. Gold surveys from last week were mixed to a bit bearish in price expectations this week. The newest surveys lean heavily bearish.
"In the Kitco News Gold Survey, out of 36 participants, 28 responded this week. Of those 28 participants, 9 see prices up, while 17 see prices down and 2 see prices moving sideways or are neutral," reports Kitco News.

"Those who see weaker prices cite currency factors and technical-chart trends. The strength of the U.S. dollar, which rose to its highest level since August 2010, pressured gold and other commodities this week…

Those who see higher prices said they expect gold to find support near current levels, saying that the sentiment in gold has become too bearish."
Bloomberg's weekly gold survey has 17 participants looking for lower gold prices next week, 8 expecting them to move higher and 3 neutral.
"Prices had been caught between breakneck ETP [exchange-trading product] outflows and strength in physical demand. ETP outflows have shown little sign of slowing," wrote analysts at Barclays in a note, according to MarketWatch.

"As we enter the period beyond seasonal demand, gold prices are likely to find reduced support from the physical market and are exposed to further downside risk in the near term. We maintain our second-quarter 2013 average gold price forecast at $1,350/oz," the Barclays analysts added.
In percentage, gold maintained its place as the second worst performing precious metal this year. The yellow metal is down $311.10, or 18.6%.
Silver, Platinum and Palladium Futures
Silver and platinum followed gold on the week, logging respective losses of 5.5% and 1.2%. On the flip side, palladium rallied 4.9% from a week ago.
In breaking down the numbers on Friday:
Silver for July delivery closed at $22.352 an ounce, falling 30.7 cents or 1.4%. Silver edged up one-tenth of a cent in the previous session.

July platinum settled down $17.60, or 1.2%, to $1,468.00 an ounce, marking a third consecutive day of declines.

Sister metal palladium dipped 50.0 cents to snap a four-session winning streak. The June palladium contract closed at $740.25 an ounce.
Leading percentage declines among precious metals in 2013 is silver, down 26.1%. Platinum has fallen 4.8%. Palladium added to its gains in 2013, now up 5.2%.
London Fix Precious Metals
London precious metals fixings were mixed on the final day of the week. When comparing the Thursday PM to Friday PM London Fix prices:
Gold gave back $12.25, or 0.9%, to $1,368.75 an ounce,
Silver shot up 26.0 cents, or 1.2%, to $22.52 an ounce,
Platinum shed $6.00, or 0.4%, to $1,470.00 an ounce, and
Palladium added $8.00, or 1.1%, to $736.00 an ounce
Like bullion futures in New York, palladium stood by itself with a weekly gain. It climbed 1.1%. Falling from a week ago was gold by 4.0%, silver by 3.6% and platinum by 1.3%.
US Bullion Coin Sales in May
Weekly sales of U.S. Mint gold bullion coins were the highest in three weeks. Last week's total was surprisingly very modest based on recent trends. Sales of silver bullion coins were about on par with the previous week. In the latest weekly sales breakdowns:
Gold bullion coins totaled 36,500 ounces, well up from last week's 6,000 ounces and the immediate prior week's 13,500 ounces. Splits were 30,000 ounces in 22-karat American Gold Eagles and 6,500 ounces in 24-karat American Gold Buffalo coins.

Silver bullion coins hit 897,000 ounces compared to the 900,000 ounces notched last week. Splits were 833,500 ounces in American Silver Eagles and 63,500 ounces in America the Beautiful Five Ounce Silver Bullion Coins.
In another milestone on Wednesday, American Silver Eagles topped 20 million for the year. As stated then, that has never happened so soon. When annual sales hit a record of nearly 40 million Silver Eagles in 2011, it took until June 14 to reach the mark. Last year, the bullion coins did not hit 20 million until August 6.
ATB five ounce bullion sales came from the Monday release of the coin honoring White Mountain National Forest in New Hampshire. It is the first of the five 2013-dated ATB silver bullion coins intended for investors. For collectors, the U.S. Mint released the uncirculated White Mountain version on Thursday. While the bullion coin's price changes with market conditions, the collector coin is fixed at $179.95.
The following are the latest daily, May and year-to-date bullion coin totals as published by the United States Mint.
American Eagle and Buffalo Bullion Coin Sales
Friday Sales
Last Week
Weekly Sales
May Sales
YTD Sales
$50 American Eagle Gold Bullion Coins
3,000
5,000
28,000
43,000
477,000
$25 American Eagle Gold Bullion Coins
0
0
2,000
2,000
42,000
$10 American Eagle Gold Bullion Coins
0
0
4,000
4,000
76,000
$5 American Eagle Gold Bullion Coins*
0
0
0
0
300,000
$50 American Buffalo Gold Bullion Coins
0
1,000
6,500
9,000
141,000
White Mountain 5 oz. Silver Bullion Coins
0
0
12,700
12,700
12,700
American Eagle Silver Bullion Coins
0
900,000
833,500
1,733,500
20,043,500
*The U.S. Mint has temporarily suspended sales of its smallest American Gold Eagle until inventories are replenished. The Mint ran out of them on April 22.