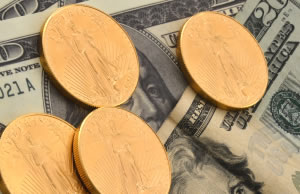 Gold losses on Tuesday and Thursday combined to account for a weekly 0.9% drop in price. Silver tracked the yellow metal this week to give back 0.7% but platinum mustered a 0.2% gain and sister metal palladium surged 2.5%.
The mixed results contrast against last week when precious metals posted broader gains that ranged from 0.9% to 5.7%.
On Friday, gold for December delivery inched up 90.0 cents to close at $1,714.70 an ounce on the Comex in New York. The settlement price was nearer the intraday high of $1,717.20. Gold touched a Friday low $1,705.60.
Fiscal cliff worries pressured stocks this week. That, and a firmer U.S. dollar, weighed heavily on gold prices, opined analysts.
"The severity of the recent equities decline has cast a shadow of fear over gold investors that continued capitulation in the stock market will force leveraged accounts to sell gold," Reuters quoted Jeffrey Sica, chief investment officer of Sica Wealth, which manages over $1 billion in assets.
Gold Prices Seen Higher Next Week
Gold's $16.20 loss this week was contrary to the expectations of many bullion dealers, traders and analysts. Despite that, their outlook remains strong for prices next week based on the latest gold surveys.
"Gold prices could rise next week as debate over the U.S. 'fiscal cliff' and worries about the European sovereign-debt situation continue to support prices," reports Kitco News.

In the Kitco News Gold Survey, out of 33 participants, 22 responded this week. Of those 22 participants, 14 see prices up, while three see prices down, and five are neutral or see prices moving sideways…

Some survey participants who see weaker prices next week said gold is getting ahead of itself and that the market isn't acting all that well on its own."
Gold prices year-to-date have surged $147.90 or 9.4%.
Silver, Platinum and Palladium Futures
In other New York bullion futures on Friday:
Silver for December delivery declined 30.4 cents, or 0.9%, to settle at $32.37 an ounce.

Platinum for January delivery closed down $11.50, or 0.7%, to $1,561.80 an ounce.

Palladium for December delivery shed $4.75, or 0.8%, to $626.45 an ounce.
Silver continues to leads precious metals this year with a 16.0% increase that amounts to $4.46. Platinum added to its 2012 gains, up $156.90 or 11.2%. Palladium's strong performance this week helped to trim its losses this year, which now stand at $29.70 or 4.5%.
London Precious Metals
Precious metals in London were mixed Friday, as was the case all week. When comparing the most recent London PM Fix prices:
Gold advanced $3.50, or 0.2%, to $1,713.50 an ounce,
Silver fell 30.0 cents, or 0.9%, to $32.27 an ounce,
Platinum declined $24.00, or 1.5%, to $1,554.00 an ounce, and
Palladium plunged $16.00, or 2.5%, to $623.00 an ounce
Weekly precious metal increases included silver at 0.3% and palladium at 1.8%. Falling were gold at 1.4% and platinum at 0.3%.
US Bullion Coin Sales in November
Although U.S. Mint bullion sales were down this week compared to last, levels remained robust and on track for an exceptional November. In a breakdown of weekly coin sales:
Bullion gold coins totaled 21,500 ounces with splits of 18,500 ounces in 22-karat American Eagle gold coins and 3,000 ounces of 24-karat American Buffalo gold coins. Total sales last week for both coins reached 27,500 ounces. With a bit more than half of November past, Gold Eagle sales are at 56,000 ounces. That is just 3,000 away from matching October and already 15,000 ounces higher than November 2011.
Bullion silver coin sales totaled 725,000 ounces with splits of 717,500 of American Eagle silver coins and 7,500 ounces of America the Beautiful 5 Ounce Silver Bullion Coins. Sales last week for both coins hit 1,373,500 ounces for one of the highest weekly totals of the year. Silver Eagle sales in November are already at 2,265,500, easily trumping the 1,384,000 in November 2011. Another 888,000 will match sales from last month.
In related coin news, weekly sales for other U.S. Mint products are published in this coin news article.
Below are the latest daily, November and year-to-date bullion sales as provided by the U.S. Mint.
US Mint American Eagle and Buffalo Bullion Coin Sales
Daily Sales
Prior Weekly
Weekly Sales
November Sales
YTD 2012
$50 American Eagle Gold Coins
7,000
20,000
15,500
51,500
516,000
$25 American Eagle Gold Coins
2,000
0
3,000
3,000
66,000
$10 American Eagle Gold Coins
2,000
2,000
2,000
4,000
70,000
$5 American Eagle Gold Coins
0
10,000
10,000
20,000
300,000
$50 American Buffalo Gold Coins
1,500
5,000
3,000
8,000
115,500
American Silver Eagle Coin
70,000
1,348,000
717,500
2,265,500
31,213,500
America the Beautiful 5 Oz. Silver Bullion Coin Sales
Daily Sales
Prior Weekly
Weekly Sales
November Sales
All-Time Total
2012 El Yunque National Forest 5 oz. Silver Bullion Coins
0
50
500
1,800
19,900
2012 Chaco Culture National Historical Park 5 oz. Silver Bullion Coins
0
50
500
1,800
20,000
2012 Acadia National Park 5 oz. Silver Bullion Coins
0
0
500
500
22,300
2012 Hawai'i Volcanoes 5 oz. Silver Bullion Coins
0
5,000
5,000
20,000
2012 Denali National Park 5 oz. Silver Bullion Coins
0
0
2,500
15,000
2011 Olympic National Park 5 oz. Silver Bullion Coins
0
0
0
85,900
2011 Vicksburg National Military Park 5 oz. Silver Bullion Coins
0
0
0
39,500
2011 Chickasaw Park 5 oz. Silver Bullion Coins
0
0
0
29,700
TOTAL
0
5,100
1,500
11,600
252,300
Coin sales listed above are in the number of bullion coins sold, not the amount of ounces.