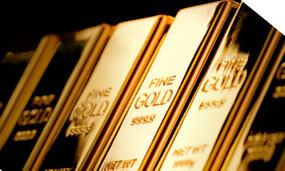 Gold futures rebounded on Monday from an almost 6-year low but they still tumbled 6.7% in November after rallying 2.4% in October.
Gold for February delivery advanced $9.10, or 0.9%, to settle at $1,065.30 an ounce on the Comex division of the New York Mercantile Exchange. The yellow metal has suffered under a stronger U.S. dollar, opined analysts.
"Gold's negative correlation with the dollar is likely to continue because of the expectations of the U.S. interest rates," Reuters quoted ETF Securities Martin Arnold. "We expect the dollar to peak early next year and then decline as the market gets on board with the pace of the Fed tightening cycle."
The precious metal ranged from a low of $1,052.20 to a high of $1,066.50. Gold prices fell last week by 1.9%, their sixth straight weekly decline, and settled Friday at their lowest level since Feb. 5, 2010. Gold is now down 10% on the year.
Silver for March delivery tacked on 4 cents, or 0.3%, to close at $14.09 an ounce. Silver prices traded from $13.98 to $14.18. They tumbled 9.5% in November, accounting for most of their year to date loss of 9.7%. Silver surged 7.2% in October.
In rounding out the precious metals futures complex:
January platinum shed $2.90, or 0.4%, to $832.90 an ounce, ranging from $826 to $838.70.

Palladium for March delivery declined $7.45, or 1.4%, to $543.20 an ounce, trading between $540 and $551.60.
For the month of November, platinum plunged 15.8% and palladium tumbled 19.8%. The two metals are off on the year by 31.1% and 32%.
London Precious Metals Prices
Earlier fixed London gold and silver prices were divided. In comparing their prices from Friday PM to Monday PM:
Gold added $4.50, or 0.4%, to $1,061.90 an ounce.
Silver dipped 3 cents, or 0.2%, to $14.08 an ounce.
In November, London prices fell by 7% for gold and 11% for silver.
LBMA platinum and palladium prices are available on the LBMA's website with a delay of midnight.
US Mint Bullion Coin Sales
Demand surged in November for United States Mint bullion products. CoinNews.net will publish a more detailed analysis later, but in summary:
American Eagle gold coins advanced 97,000 ounces in November compared to 34,000 ounces in the prior month and 60,000 ounces from a year earlier. For the year-to-date, American Gold Eagle sales total 801,000 ounces. That compares to 506,500 ounces through the same period in 2014. All but one of the four different sized 2015-dated Gold Eagles has sold out.

American Eagle silver coins rallied 4,824,000 for the month compared to 3,788,000 in October and 3,426,000 in November 2014. Their sales for the year now at 44,666,500 coins mark a new record. The previous annual record of 44,006,000 coins happened in 2014. Sales last year through November reached 41,547,000 coins.

American Buffalo gold coins jumped 38,000 on the month compared to 10,500 in October and 12,500 in November 2014. Sales at 219,000 for the year compare to 173,000 during the same period last year.

America the Beautiful Five Ounce Silver Bullion Coins advanced by 35,800 coins or 179,000 ounces — all from the release on Monday of the 2015 Saratoga National Historical Park Five Ounce Silver Bullion Coin. Five ounce sales were muted in October as the first four coins for 2015 had already sold out.
Below is a listing of U.S. Mint bullion products with the number of coins sold during varying periods. Products with an asterisk (*) are no longer available.
US Mint Bullion Sales (# of coins)
Monday Sales
Last Week
Oct Sales
Nov Sales
YTD Sales
$50 American Eagle 1 Oz Gold Coins*
N/A
16,000
26,000
80,500
626,500
$25 American Eagle 1/2 Oz Gold Coins
0
0
4,000
7,000
74,000
$10 American Eagle 1/4 Oz Gold Coins*
N/A
N/A
4,000
12,000
158,000
$5 American Eagle 1/10 Oz Gold Coins*
N/A
N/A
50,000
100,000
980,000
$50 American Buffalo 1 Oz Gold Coins*
3,000
18,000
10,500
38,000
219,000
$1 American Eagle 1 Oz Silver Coins
737,000
1,000,000
3,788,000
4,824,000
44,666,500
2015 Homestead 5 Oz Silver Coins*
N/A
35,000
2015 Kisatchie 5 Oz Silver Coins*
42,000
2015 Blue Ridge Parkway 5 Oz Silver Coins*
45,000
2015 Bombay Hook 5 Oz Silver Coins*
45,000
2015 Saratoga 5 Oz Silver Coins
35,800
N/A
35,800
35,800