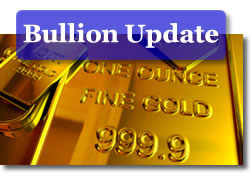 Gold prices declined 0.6% and to a more than two-week low on Monday as a stronger U.S. dollar curbed the appeal of precious metals.
"There is gloom and people want to move into cash," Frank McGhee, the head dealer at Integrated Brokerage Services LLC in Chicago, said in a telephone interview that was relayed on Bloomberg.
Gold prices for June delivery fell $10.20 to $1,632.60 an ounce on the Comex in New York. The settlement price was the lowest since April 5. Intraday gold prices bracketed a low of $1,623.60 and a high of $1,644.20. Last week gold pulled back 1.0%.
Silver prices for May delivery plunged $1.12, or 3.5%, to $30.531 an ounce. Silver touched a low of $30.450 and a high of $31.685. The white metal gained 0.8% last week.
Platinum prices for July delivery settled down $27.90, or 1.8%, to $1,556.30 an ounce, ranging from $1,552.90 to $1,585.10. Last week platinum declined 0.2%.
Palladium prices for June delivery lost $6.00, or 0.9%, to $670.90 an ounce, trading between $665.00 and $678.50. Palladium soared 3.6% last week.
London Precious Metal
In London, palladium was unchanged while other precious metals declined. When comparing the most recent London PM fixings:
Gold prices lost $12.50, or 0.8%, to $1,629.00 an ounce,
Silver fell 63.0 cents, or 2.0%, to $31.16 an ounce,
Platinum stepped back $26.00, or 1.6%, to $1,553.00 an ounce, and
Palladium was unchanged at $666.00 an ounce
U.S. Mint Bullion Coins
U.S. Mint bullion coin sales picked up Monday following a sluggish week of buying activity. Bullion American Silver Eagles had climbed just once last week, and that was a modest gain of 100,000 exactly one week ago. The Silver Eagles started the new week with a more typical Monday rally of 400,000.
Bullion American Gold Buffalo coins advanced 2,000 on Monday after having not increased since April 11. In wrapping up gold bullion, sales of American Gold Eagles were a bit steadier last week as U.S. Mint distributors ordered 4,000 ounces. 1,500 ounces more moved Monday.
The following are the available daily, weekly, April and year-to-date bullion coin sales totals as provided by the U.S. Mint.
U.S. Mint American Eagle and Buffalo Bullion Coin Sales
Daily Gains
April Gains
YTD 2012
American Gold Eagle (1 oz.)
1,000
16,000
178,000
American Gold Eagle (1/2 oz.)
0
0
51,000
American Gold Eagle (1/4 oz.)
2,000
2,000
42,000
American Gold Eagle (1/10 oz.)
0
5,000
135,000
American Gold Buffalo Coin (1 oz.)
2,000
9,000
55,500
American Silver Eagle
400,000
1,280,000
11,419,000
America the Beautiful 5 Oz. Silver Bullion Coin Sales
Prior Weekly
Weekly Gains
All-Time Total
Olympic National Park 5 oz. Silver Coins
0
0
85,100
Vicksburg National Military Park 5 oz. Silver Coins
0
0
38,300
Chickasaw Park 5 oz. Silver Coins
0
0
28,900
TOTAL
0
0
152,300
All bullion coin sales in the above tables are in number of coins, not in the amount of ounces sold. The U.S. Mint last updated five ounce bullion silver coins sold on Monday, April 9.