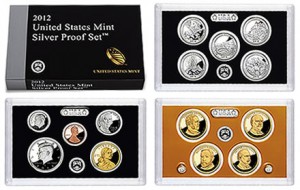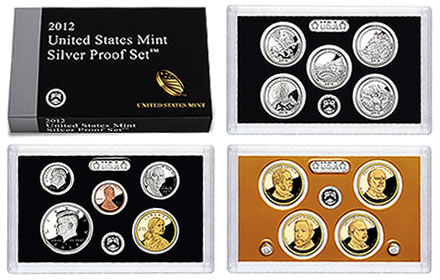 Collectors can expect a 2012 Limited Edition Silver Proof Set from the United States Mint.
Listed earlier this week on the U.S. Mint's product schedule but later pulled, the limited edition set will have a price tag of $149.95.
When the set was posted on the Mint's schedule, it had a release date of November 27, 2012. Given its disappearance, the release date remains in question.
[Update: Complete details about the proof set are available now. Jump to this article.]
Pricing is based on a notice in the Federal Register that is signed by Richard Peterson, Acting U.S. Mint Director, and dated November, 9, 2012. The notice will become public on Monday, November 19, 2012.
The notice does not include what silver coins will be packaged within the silver proof set, nor does it offer when it will be released. This is standard in notices that are released strictly for announcing product prices. And unfortunately, the U.S. Mint is yet to respond to questions posed Friday about the limited edition set, leaving its contents up for speculation.
This year's proof commemorative silver coins are all but ruled out. Combining different themed commemoratives within one set would be unusual at this point considering their limited sales time and prices of $54.95 for the 2012 Proof Infantry Silver Dollar and $54.95 for the Proof Star-Spangled Banner Silver Dollar.
It seems more likely to expect a proof American Silver Eagle. Since the U.S. Mint indicated that it would not offer the 2012-S Reverse Proof American Silver Eagle outside of the 2012-S San Francisco Two-Coin Proof Set, the logical choice would be the 2012-S or 2012-W Proof American Silver Eagle. The former was also in the two-coin set. It is currently available within the Making American History Coin and Currency Set that comes with a unique $5 bill for $72.95. The 2012-W Silver Eagle is no longer available. Before it "sold out" this week with reported sales of 819,217 that are probably closer to 850,000, it was listed at $59.95.
Also for considerations are the San Francisco minted 90% silver coins that come within the core annual Silver Proof Set. This year these include the five 2012-S America the Beautiful Quarters, the 2012-S Kennedy half-dollar and the 2012-S Roosevelt dime. Priced at $67.95, the 2012 Silver Proof Set also has non-silver proofs of the Lincoln cent, Jefferson nickel, 2012 Native American $1 coin and the four 2012 Presidential $1 coins. So, pull these clad coins out. Having them in a limited edition set would tarnish the brand and appeal of the annually issued set.
That leaves one 'S' or one 'W' proof Silver Eagle and the 90% silver coins, which have a combined melt value of $75.46 based on Friday's London Silver Fix price of $32.27 an ounce. And it presents a problem since the set with these proposed coins would cost nearly double its melt value.
Also, price stacking does not match up well. If the 2012 Limited Edition Silver Proof Set includes a 2012 Proof American Silver Eagle that was $54.95 just days ago and the silver coins within the 2012 Silver Proof Set cost $67.95 to get, the total comes to $127.90. Would collectors pay $22 more just for packaging? Not many experienced collectors would.
Unless the U.S. Mint has other combinations or some uniquely minted coins in the works, many collectors may be sour to both the idea of and the price for the 2012 Limited Edition Silver Proof Set.