New details have emerged for the 2012 Limited Edition Silver Proof Set. The United States Mint on Monday published a product page that includes descriptions of the set's eight coins, its mintage limits, initial ordering limits and an image of it, which is immediately below.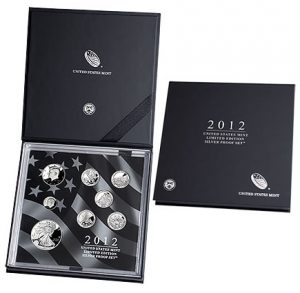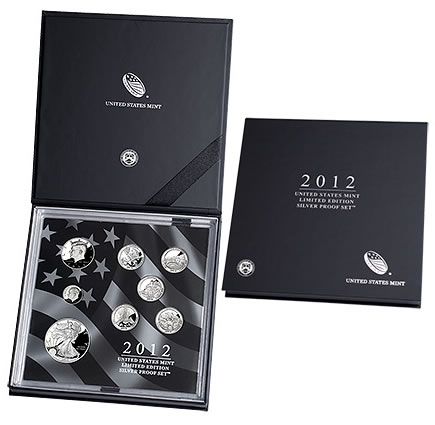 The U.S. Mint also placed the proof set back on schedule with its original release date of November 27, 2012 and at the previously announced price of $149.95.
Silver Coins in Limited Edition Silver Proof Set
As first speculated about in this coin news article, the 2012 Limited Edition Silver Proof Set includes the following proof silver coins:
2012-W Proof American Silver Eagle (1)
2012-S Kennedy half-dollar (1)
2012-S America the Beautiful Quarters (5)
2012-S Roosevelt dime (1)
The proof American Silver Eagle is struck at the West Point Mint and composed of one-ounce of 99.9% fine silver. It is the same coin that went for $59.95 until last week when it sold out.
The smaller denominated coins are produced at the San Francisco Mint and are composed from 90% silver. These are the same seven silver coins that come with the 2012 Silver Proof Set, which also includes eight clad coins. The annual set is priced at $67.95.
Combined, the limited edition set includes 2.338 troy ounces of silver.
This year's quarters depict El Yunque National Forest in Puerto Rico, Chaco Culture National Historical Park in New Mexico, Acadia National Park in Maine, Hawai'i Volcanoes National Park in Hawaii, and Denali National Park and Preserve in Alaska.
Ordering and Mintage Limits
A mintage limit of 50,000 units is in place for the proof set. Initial ordering limits are established at two per household.
Beginning at noon ET on November 27, 2012, the 2012 Limited Edition Silver Proof Set may be ordered through this online product page, or by calling 1-800-USA-MINT (872-6468).
[Update: The shipping time has been updated on the product page to show "late December."]