Sales of the 2012 Limited Edition Silver Proof Set kicked off decently strong despite a price tag many collectors thought too high.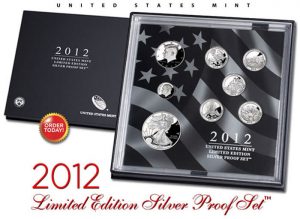 Release on November 27, 2012, buyers snapped up 19,290 by December 3, 2012. The Tuesday through Monday sales haul represents nearly $2.9 million in revenue for the U.S. Mint given the set's $149.95 price.
On the day of release, the 2012 Limited Edition Silver Proof Set had a silver melt value of less than $80 based on an ounce of silver at $34 an ounce. The more than $70 premium was unpalatable to some collectors who vocally voiced their displeasure.
Within the eight-coin silver proof set is a one-ounce 2012-W proof American Eagle silver coin, a 2012-S Kennedy silver half-dollar, five 2012-S America the Beautiful silver quarters and a 2012-S Roosevelt silver dime. The amount of silver across the coins totals to 2.338 troy ounces.
These sets have a household ordering limit of two with potential maximum sales of 50,000. Orders may be placed online at www.usmint.gov/catalog or by calling 1-800-USA-MINT (872-6468). Shipping is expected to begin in late December.