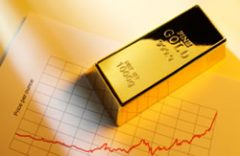 Precious metals scored soaring gains this week as gold jumped 3.3% to settle at a 135-day high and silver rallied 9.4% to close at 115-day high. PGM's were in between with palladium advancing 7.8% and platinum climbing 5.5%.
As for Friday, gold prices for December delivery rose marginally. The yellow metal gained 10.0 cents to close at $1,672.90 an ounce for the highest settlement price since April 12.
"The perception that the Fed is closer to QE than any time since this time last year has helped drive gold higher," Reuters quoted Carlos Perez-Santalla, trader at PVM Futures. "The preservation-of-capital type money managers will likely find gold more attractive now than they had any time in the past four months when price had been stuck in a range."
Precious metals started rallying Wednesday after minutes from the latest Federal Reserve meeting revealed heightened sentiment for another round of quantitative easing. Many Fed members thought that "additional monetary accommodation would likely be warranted fairly soon" unless incoming data pointed to a "substantial and sustainable" strengthening of the economy.
Higher Gold Prices Expected Next Week
In the latest weekly gold surveys, a majority of participants expect further gains for gold. Bloomberg's survey was the most bullish in nine months. Twenty-nine participants forecasted higher prices next week with just 3 bearish and 3 neutral. Kitco's survey reflected a bit more reserve.
"In the Kitco News Gold Survey, out of 32 participants, 24 responded this week. Of those 24 participants, 13 see prices up, while five see prices down, and six are neutral or see prices moving sideways," reports Kitco News.

"Those who see higher prices said momentum could push values up, with a trip to $1,700 possible… Those who see weaker prices said they expect some sort of retracement after this week's gains, especially if there are no soothing words from Bernanke."
Silver, Platinum and Palladium Futures
In other New York bullion futures on Friday:
Silver for December delivery edged up 16.5 cents, or 0.5%, to $30.621 an ounce. It was silver's highest closing price since May 2. The white metal ranged from an intraday low of $30.19 to a high of $30.70.

Platinum for October delivery eased 50 cents to $1,554.40 an ounce, ranging from $1,533.00 to $1,555.50.

Palladium for September delivery shed $4.45, or 0.7%, to $652.15 an ounce, ranging from $634.75 to $656.75.
2012 Gains and Losses
Gold has advanced 6.8% in 2012. Platinum shines the brightest in the group with an increase of 10.6%. Silver follows at 9.7% — much of that coming this week. Palladium remains the lone precious metal in the red, down 0.6% this year.
London Precious Metals
Precious metals in London were mixed Friday with mostly modest movements after sharp gains on Thursday. When comparing the London PM fixings:
Gold turned up $1.75, or 0.1%, to $1,667.00 an ounce,
Silver climbed 5.0 cents, or 0.2%, to $30.37 an ounce,
Platinum dipped $3.00, or 0.2%, to $1,537.00 an ounce, and
Palladium added $5.00, or 0.8%, to $643.00 an ounce
Like futures in New York, London metals registered soaring weekly gains to the tune of 3.2% for gold, 7.7% for silver, 5.6% for platinum and 8.6% for palladium.
Sales of U.S. Mint Bullion Coins
Despite silver's gains this week, the U.S. Mint sold fewer bullion American Silver Eagles as compared to last week. Sales jumped for U.S. Mint gold coins, however, after a weak showing in the prior week. In comparisons:
Sales of gold coins combined to 14,500 ounces versus last week's total of 3,000 ounces. As usual, 22-karat American Gold Eagles were the most popular with sales of 11,500 ounces. 24-karat American Gold Buffalos totaled 3,000 ounces.

Sales of silver coins combined to 563,500 ounces against the previous week's 670,000 ounces. United States Mint distributors ordered 5,200 of the America the Beautiful 5 Ounce Silver Coins compared the prior week's 300, but demand fell for American Silver Eagles with sales of 537,500 versus 668,500.
The following grid offers the most recent daily, weekly, August and year-to-date bullion coin sales, as published by the U.S. Mint.
Sales of US Mint American Eagle and Buffalo Bullion Coins
Daily Gains
Prior Weekly
Weekly Gains
August Gains
YTD 2012
$50 American Eagle Gold Coins
1,500
3,000
9,500
21,000
334,500
$25 American Eagle Gold Coins
0
0
1,000
1,000
57,000
$10 American Eagle Gold Coins
0
0
0
0
54,000
$5 American Eagle Gold Coins
5,000
0
15,000
20,000
210,000
$50 American Buffalo Gold Coins
0
0
3,000
6,500
85,500
American Silver Eagle Coins
100,000
668,500
537,500
2,121,000
21,791,000
Sales of America the Beautiful 5 Oz. Silver Bullion Coins
Daily Gains
Prior Weekly
Weekly Gains
August Gains
All-Time Total
2012 El Yunque National Forest 5 oz. Silver Coins
0
100
100
600
13,800
2012 Chaco Culture National Historical Park 5 oz. Silver Coins
0
200
500
1,100
8,500
2012 Acadia National Park 5 oz. Silver Coins
0
0
4,100
5,200
15,100
2011 Olympic National Park 5 oz. Silver Coins
0
0
300
300
85,800
2011 Vicksburg National Military Park 5 oz. Silver Coins
0
0
100
100
39,200
2011 Chickasaw Park 5 oz. Silver Coins
0
0
100
100
29,500
TOTAL
0
300
5,200
7,400
191,900
U.S. Mint bullion sales above are in coin totals, not in amount of ounces sold.
In coin news this week, the Royal Canadian Mint revealed information about its next Canadian Wildlife silver bullion coin depicting the Pronghorn Antelope. Royal Canadian Mint distributors are expected to start selling it in September. The 2013 Pronghorn Antelope coin is the fifth of six coins to get released in the popular bullion series.
For a recap on U.S. Mint numismatic products and how they have been performing, check out this week's sales figures article.