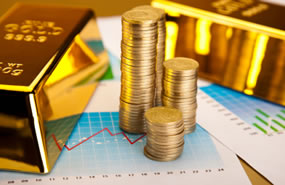 On Friday, gold inched higher, silver and platinum logged moderate gains and palladium soared. And for the week, the precious metals performed pretty much in the same way.
Gold for April delivery advanced $1.80, or 0.1%, to end the week at $1,576.90 an ounce on the Comex in New York. Snapping a string of four straight weekly losses, the settlement price was $4.60, or 0.3%, higher than last Friday. The yellow metal initially fell Friday after a better-than-expected U.S. jobs report pressured prices, but gold quickly pulled back.
"The small drop and quick recovery we saw in gold was a clear sign that gold has been oversold and has no more time for the bears," MarketWatch quoted Jan Skoyles, head of research at The Real Asset Co. "The downturn in gold has no more to give."
Weekly gold surveys show mixed expectations for prices next week. Bloomberg's survey is weighted bullish with 23 of 32 traders expecting gains. Five were bearish and four were neutral. Conversely, Kitco's weekly survey was almost evenly split.
"In the Kitco News Gold Survey, out of 33 participants, 25 responded this week. Of those 25 participants, six see prices up, while nine see prices down, and 10 see prices moving sideways or are neutral," Kitco reported.

"There are many participants who see prices continuing to hold in the current range between the $1,550s and $1,600 area, based on the Comex April contract… Those who see higher prices said there's no change in the gold market's underlying factors…"
Gold prices year-to-date have fallen $98.90, or 5.9%.
Silver, Platinum and Palladium Futures
In other New York precious metals futures on Friday and for the week:
Advancing for a sixth consecutive session, but all in modest steps, silver for May delivery climbed 14.0 cents, or 0.5% to $28.948 an ounce. Silver added 45.8 cents, or 1.6%, from a week ago.

April platinum tacked on $8.80, or 0.6%, to $1,603.90 an ounce. For the week, platinum gained $30.40, or 1.9%.

Palladium for June delivery leapt $23.70, or 3.1%, to $782.75 an ounce. Palladium jumped $62.35, or 8.7%, this week. The PGM has advanced on expectations of higher demand coupled with supply concerns.
For the year-to-date, silver is off 5.9% and platinum has climbed 4.0%. Palladium aggressively leads precious metals this year with its 11.3% increase.
London Bullion Prices
Precious metals in London split Friday with silver and platinum lower and gold and palladium higher. When comparing the Thursday PM to Friday PM London fixings:
Gold added $2.25, or 0.1%, to $1,581.75 an ounce,
Silver slipped 23.0 cents, or 0.8%, to $28.78 an ounce,
Platinum declined $8.00, or 0.5%, to $1,588.00 an ounce, and
Palladium jumped $14.00, or 1.9%, to $769.00 an ounce
For the week in London, gold dipped 50 cents as other precious metals turned higher. Increasing was silver at 2.7%, platinum at 0.6% and palladium at 6.7%.
US Bullion Coin Sales in March
Sales of U.S. Mint bullion coins mark a third week of similarities. In weekly breakdowns:
Gold bullion coin sales reached 26,500 ounces as compared to the previous week's total of 24,000 ounces. Splits were 21,000 ounces in 22-karat American Gold Eagles and 5,500 ounces in 24-karat American Buffalo gold coins.

Silver bullion coin sales hit 897,000 ounces versus the prior week's 943,500 ounces. Sales came entirely from American Silver Eagles. Sales surged last week for America the Beautiful 5 oz. Silver Coins.
In related bullion coin news, there has not been an update from the U.S. Mint on the progress of its Palladium Eagle study for Congress. It was due to be delivered this week to the Senate Banking Committee and the House Committee on Financial Services. If the study indicates that the U.S. Mint can produce and distribute .9995 pure palladium coins at no cost to taxpayers, American Eagle Palladium bullion coins would join the Mint's bullion lineup within a year.
Also, February bullion coin sales are final. Check the link to read about the strong monthly numbers.
Current U.S. Mint bullion coin sales follow.
American Eagle and Buffalo Bullion Coin Sales
Friday Sales
Last Week
Weekly Sales
March Sales
YTD Sales
$50 American Eagle Gold Bullion Coins
7,500
20,000
18,000
22,000
214,500
$25 American Eagle Gold Bullion Coins
1,000
1,000
2,000
2,000
24,000
$10 American Eagle Gold Bullion Coins
0
2,000
4,000
4,000
40,000
$5 American Eagle Gold Bullion Coins
0
5,000
10,000
10,000
190,000
$50 American Buffalo Gold Bullion Coins
4,000
2,500
5,500
5,500
89,500
American Silver Eagle Bullion Coins
0
822,000
897,000
897,000
11,763,500
America the Beautiful 5 Oz. Silver Bullion Coin Sales
Friday Sales
Last Week
Weekly Sales
March Sales
All-Time Sales
2012 El Yunque National Forest 5 oz. Silver Bullion Coins
0
0
0
0
24,000
2012 Chaco Culture National Historical Park 5 oz. Silver Bullion Coins
0
2,600
0
600
24,400
2012 Acadia National Park 5 oz. Silver Bullion Coins
0
0
0
0
25,400
2012 Hawai'i Volcanoes 5 oz. Silver Bullion Coins
0
0
0
0
20,000
2012 Denali National Park 5 oz. Silver Bullion Coins
0
0
0
0
20,000
2011 Olympic National Park 5 oz. Silver Bullion Coins
0
0
0
0
104,900
2011 Vicksburg National Military Park 5 oz. Silver Bullion Coins
0
12,400
0
10,400
58,100
2011 Chickasaw Park 5 oz. Silver Bullion Coins
0
9,300
0
8,800
48,700
TOTAL
0
24,300
0
19,800
325,500
All bullion figures above are in the number of coins sold. Calculate total ounces by using the bullion coin's weight.