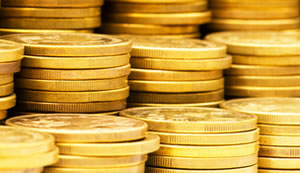 Gold extended its string of winning sessions to eight and silver to ten, with both notching soaring weekly gains. Gold's rally is the longest since July 2011 and silver's streak is the hottest since March 2008.
Gold for April delivery on Friday rallied $18.50, or 1.4%, to settle at $1,318.60 an ounce on the Comex division of the New York Mercantile Exchange. The settlement price is the highest since gold closed at $1,323.70 an ounce on Oct. 31. The precious metal scored a weekly gain of 4.4%.
"Gold has broken the downtrend, and we are going to see some buying come in," Lance Roberts, who oversees $600 million as chief executive officer of STA Wealth in Houston, said in a telephone interview according to Bloomberg News. "Yellen and the Fed will definitely not take away the stimulus since it is becoming increasingly clear that the economy is not healthy."
Gold prices for the year so far have jumped $116.30, or 9.7%, raising the question as to why so many analysts were bearish on the yellow metal at least in the early going.
"The analyst landscape is uncommonly bearish. Even the 'gold bugs' are neutral of gold and that is stunning, really," Dennis Gartman, editor and publisher of The Gartman Letter, noted back on Jan. 18. It's "time to be quietly bullish," he added.
Michael Fuljenz, President of Universal Coin & Bullion in Beaumont, Texas, opined on Friday:
Financial experts "missed the obvious, including growing demand in China and other markets, plus the record-high sales in physical gold coins. Some analysts seem to only focus on their own peer group of like-minded Wall Street traders who sold their gold exchange-traded funds (ETFs) or gold futures contracts last year. Wall Street analysts looked at negative sentiment among other firms on Wall Street and predicted 'more of the same' instead taking a fresh look at gold's global fundamentals."
On December 20, 2013, Fuljenz issued a year-end advisory stating:
"Although gold will close lower on a year-to-year basis for the first time in 12 years, the long-term outlook for gold is still quite positive. Gold was down in 2013, but it's not out in 2014."
Last year, gold plunged by more than 28% for the biggest annual drop in more than three decades.
Gold Outlook
Majority participants in weekly gold surveys by Kitco News are, apparently, among the better forecasters. They accurately predicted gold's direction in six of the last seven weeks. Most participants in Kitco's latest gold survey are expecting gold prices to rise further next week.
"In the Kitco News Gold Survey, out of 33 participants, 26 responded this week. Twenty see prices up, while three see prices down and three see prices trading sideways or are neutral," reports Kitco News.

"Most of the survey participants this week who are bullish cite the strong performance gold put in this week as the main factor. Many of them expect gold to build on those gains headed into next week… A few survey participants forecast lower prices for next week, suggesting the rally in gold is due for a retreat."
Silver, Platinum and Palladium Futures
Silver was the darling precious metal child on Friday and for the week. Silver for March delivery ended at $21.42 an ounce, soaring $1.03, or 5%. It surged $1.49, or 7.5%, for the week and has gained $2.05, or 10.6%, since the end of 2013.
"Silver has caught up with gold after it finally managed to break the key $20.20 mark on Friday," MarketWatch quoted Fawad Razaqzada, technical analyst at FOREX.com.
In rounding out the precious metals complex:
April platinum tacked on $13.50, or 1%, to $1,430.10 an ounce. It has advanced for seven consecutive sessions. Platinum jumped 3.7% on the week and is up 4.1% for the year-to-date.

Palladium for March delivery added $6.50, or 0.9%, to $737.60 an ounce. Its gain on Friday marks a third straight. Palladium on the week advanced 4.1% and has climbed 2.7% for the year so far.
London Fix Precious Metals
London precious metals also added to weekly gains on Friday. When comparing the London fix prices from Thursday PM to Friday PM:
Gold rose $24, or 1.9%, to $1,320 an ounce,
Silver jumped 82 cents, or 4.1%, to $21.09 an ounce,
Platinum popped $29, or 2.1%, to $1,426 an ounce, and
Palladium added $15, or 2.1%, to $740 an ounce
Weekly increases accumulated to 4.8% for gold, 6.1% for silver, 3.4% for platinum and 4.1% for palladium.
US Mint Bullion Coin Sales in February
United States Mint bullion coins notched stronger overall sales for a second straight week. In weekly bullion sales comparisons:
Gold coin sales reached 11,500 ounces, which is 500 ounces more than last week. Splits were 7,000 ounces in American Gold Eagles versus to 6,000 ounces previously, and 4,500 ounces in American Gold Buffalo coins against 5,000 ounces previously.

American Silver Eagle sales rose 900,000 compared to the prior week's total of 850,000 coins. Even as the U.S. Mint rations how many Silver Eagles it sells, the coins this week topped the 6.5 million mark. Just three other years through their first two complete months logged higher sales.
Below is a current sales breakdown across all the bureau's bullion products.
American Eagle and Buffalo Bullion Sales (# of coins)
Friday Sales
Weekly Sales
Sales Last Week
Feb Sales
YTD Sales
$50 American Eagle Gold Bullion Coins
2,000
5,000
2,000
7,000
69,500
$25 American Eagle Gold Bullion Coins
0
0
2,000
2,000
14,000
$10 American Eagle Gold Bullion Coins
0
0
8,000
8,000
36,000
$5 American Eagle Gold Bullion Coins
0
20,000
10,000
30,000
190,000
$50 American Buffalo Gold Bullion Coins
2,000
4,500
5,000
9,500
51,000
American Eagle Silver Bullion Coins
25,000
900,000
850,000
1,750,000
6,525,000