On Wednesday, August 1, 2012, the U.S. House of Representatives passed legislation calling for a 2015-dated commemorative coin in recognition of the 75th anniversary of the March of Dimes.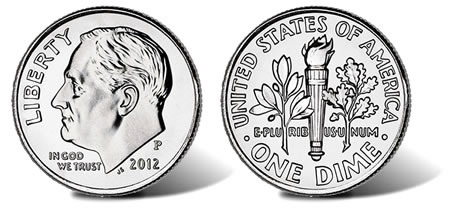 Introduced by Rep. Bob Dold (R-IL) on October 13, 2011, the March of Dimes Commemorative Coin Act would authorize the U.S. Mint to produce up to 500,000 silver dollars in collector proof and uncirculated qualities.
Known today as the March of Dimes Foundation but originally named the National Foundation for Infantile Paralysis (NFIP), the organization was established on January 3, 1938 by President Franklin D. Roosevelt to combat polio. With vaccines ending the polio epidemic in the U.S. around the mid 1950's, today the March of Dimes works to improve the health of mothers and babies.
Numbered H.R. 3187, the March of Dimes Commemorative Coin Act specifies that the silver dollar design contain motifs that represent the "past, present, and future of the March of Dimes and its role as champion for all babies."
Each commemorative coin would feature specifications used for modern silver dollars, including a 90% silver composition, a 1.5 inch diameter and 26.73 gram weight. These proposed coins are much larger than Roosevelt dimes which were first introduced into American circulation in 1946 and were struck of 90% silver until 1964. Roosevelt dimes today are produced from 8.33% nickel with the remaining balance copper to a diameter of 0.705 inches and a weight of 2.268 grams.
Sales of each commemorative coin would include a $10 surcharge paid to the March of Dimes to help finance research, education, and services for improving the health of women, infants, and children. The proof and uncirculated silver dollars could be sold directly by the U.S. Mint for up to one year, beginning on January 1, 2015.
A companion bill (S. 1935) was introduced in the Senate by Sen. Kay Hagan [D-NC] and Sen. Susan Collins [R-NH] on December 1, 2011. It has stood in the Committee on Banking, Housing, and Urban Affairs ever since.
For commemorative coin legislation to become law, it must pass both in the House and Senate and get signed by the President.