First passed in the House of Representatives and now in the Senate, the March of Dimes Commemorative Coin Act of 2012 need only be signed by the President to become law.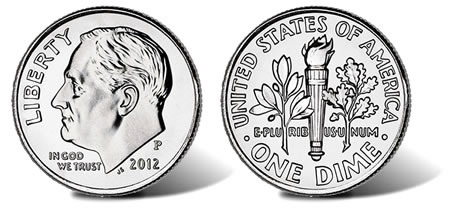 When that happens as is expected in the coming days, plans will get underway to strike up to 500,000 silver dollars in 2015 to celebrate the 75th anniversary of the establishment of the March of Dimes Foundation.
The Act, H.R. 3187, was introduced on October 13, 2011 and passed in House on August 1, 2012. It passed in the Senate this past Monday, December 10, 2012.
These silver dollar designs must be emblematic of the mission of the foundation and its record of generating support to protect children's health. Drawn up by U.S. Mint artists, coin designs will get reviewed by the Citizens Coin Advisory Committee and selected by the Treasury Secretary after consulting with the Commission of Fine Arts and the March of Dimes.
Two collectible versions of the silver commemorative coins are slated — a proof and uncirculated. Each is to have a weight of 26.73 grams, a diameter of 1.5 inches and a composition of 90% silver and 10% copper.
Sales of the silver dollars are limited to calendar year 2015. Each will include a $10 surcharge directed to the foundation to help finance research, education, and services aimed at improving the health of women, infants, and children.
"During the Great Depression, citizens sent their precious dimes — 4 billion of them — to the White House to fund research in the successful fight against polio," said Dr. Jennifer L. Howse, President of the March of Dimes.

"Today, the sale of special commemorative coins will fund research to identify the causes of premature birth: A dime defeated polio; this commemorative dollar will fight prematurity."
The March of Dimes is the leading nonprofit for pregnancy and baby health. Originally named the National Foundation for Infantile Paralysis (NFIP), President Franklin D. Roosevelt established it on January 3, 1938. The 10-cent coin is ever remindful of his association with the organization. Roosevelt dimes have been in circulation since 1946.