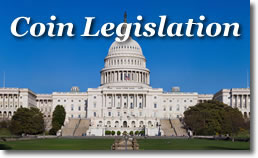 New legislation has been introduced in the U.S. House of Representatives calling for commemorative silver dollars in calendar year 2014 to celebrate the 75th anniversary of the founding of the March of Dimes.
Entitled the March of Dimes Commemorative Coin Act of 2011 and numbered H.R. 3187, the legislation would authorize the United States Mint to produce up to 500,000 coins struck in 90 percent silver and 10 percent copper.
Commemorative Coin Specifications and Designs
Outlined coin specifications follow the established guidelines for prior American commemorative coins composed of silver, including a weight of 26.73 grams and a diameter 1.5 inches.
Introduced by Rep. Bob Dold, R-IL, on October 10, the March of Dimes Commemorative Coin Act calls for collector proof and uncirculated versions that have designs:
"Emblematic of the mission and programs of the March of Dimes, and its distinguished record of generating Americans' support to protect our children's health."
More specifically, H.R. 3187 states that the silver dollars must contain motifs that represent the past, present and future of the organization and its role as champion for all babies.
Standard inscriptions would include the year '2014', 'Liberty', 'In God We Trust', 'United States of America', and 'E Pluribus Unum'.
$10 Surcharges and Bill's Status
Also standard for silver commemorative coin legislation is a $10 surcharge for each one sold. H.R. 3187 is no different, mandating that surcharges would be paid to the March of Dimes in order to:
"Help finance research, education, and services aimed at improving the health of women, infants, and children.
The March of Dimes Commemorative Coin Act enjoys the support of 19 cosponsors — more than many previously introduced coin bills that were one week old. The legislation currently resides within the Committee on Financial Services and the Committee on the Budget. In order for H.R. 3187 to become law, it must pass in the Senate, the House and win the President's signature.
About the March of Dimes
President Franklin D. Roosevelt, who struggled with polio, founded the National Foundation for Infantile Paralysis (NFIP) on January 3, 1938, when polio was on the rise. NFIP shortened its name in 1958 to the National Foundation (NF) and then changed it in 1976 to March of Dimes Birth Defects Foundation. That name was shortened in 2007 to the now currently used March of Dimes Foundation.
The foundation is the leading nonprofit organization for pregnancy and baby health. With chapters nationwide, the foundation works to improve the health of babies by preventing birth defects, premature birth and infant mortality.