The 2012-W $50 Uncirculated American Gold Eagle unexpectedly sold out, joining the 2012-W Proof American Silver Eagle coin which is also no longer available as of Tuesday.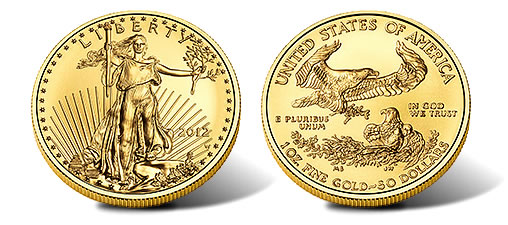 Collectors may be less surprised about the Silver Eagle since it has been available since April and sell outs around November have occurred in past years. But the American Gold Eagle had expected to be around longer given its later July 28, 2012 release and its just reached 6,000+ in sales.
2012-W Gold Eagle Marks Latest Mintage Low
Last year's 22-karat gold coin went on sale on May 5, 2011 and sold out in mid-January at a series mintage low of 8,822. This year's coin looks to set a new record low with sales of 6,114 as of Monday, November 12, 2012. The gain marks a 318 increase over last week's reported sales of 5,796.
Update: Finalized unaudited sales from the U.S. Mint place the coin at a record low of 6,118 units.
Collector proof and investor bullion American Gold Eagle coins have been around since 1986. The uncirculated coin joined the American Eagle family in 2006. To further shorten its runs, they were not produced in years 2009 and 2010 as 22-karat gold coin blanks were reserved for the two other versions. Also, during the first three years the coins were offered in four different sizes. They were only released in the single one-ounce, or $50 denomination, size in the most recent two years.
The grid below offers the Uncirculated American Gold Eagle sales/mintages over the years.
Uncirculated American Gold Eagle Sales / Mintages
$50 (1 oz)
$25 (1/2 oz)
$10 (1/4 oz)
$5 (1/10 oz)
2012-W
6,118
N/A
2011-W
8,822
2008-W
11,908
15,682
8,883
12,657
2007-W
18,606
11,455
12,766
22,501
2006-W
45,053
15,164
15,188
20,643
Reported sales of 6,114 for this year's coin are unlikely to change much.
The 2012-W Uncirculated American Gold Eagle debuted at a starting price of $1,828.00. As the gold market fluctuated, so did the Eagle's price. Before selling out, it listed at a price of $1,978.00.
Read this coin news article for information about the sell-out of the 2012-W Proof American Silver Eagle.